Before you buy a stationary bike for your home gym, test-drive both upright bikes (the traditional kind, which resemble regular bicycles) and recumbent bikes. Recumbent bikes provide back support so that you pedal straight out in front of you. If you have lower-back discomfort, you may appreciate the back support.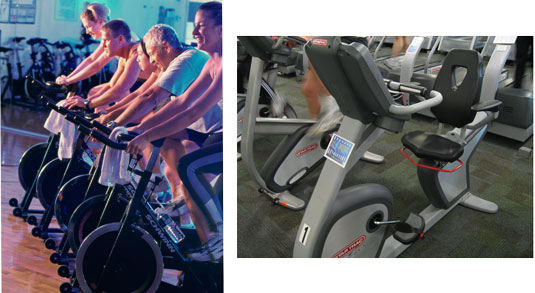 Credit: Photographs by Purestock
A row of upright bikes (left), and a recumbent bike.
Don't buy a stationary bike from a department store, because quality isn't normally a big consideration in the designs of these products. Some cheap bike seats have been known to collapse with a rider in mid-workout. Besides, specialty stores carry plenty of inexpensive models.
Important features of stationary bikes
Two stationary bikes that look similar may feel very different to your derriere and offer different electronic options. So test-ride every bike and do a thorough check of the features:
A comfortable, sturdy seat: Fancy features don't help if you can't sit on the thing for more than five minutes. Some people like a seat that's hard and narrow; others prefer one that's wider and softer. Don't assume that a wide, cushy seat is going to be more comfortable. Whatever seat you prefer, it should lock securely into place.

Seat and handlebar adjustments: Make sure that when you sit on the seat, your leg is almost straight at the bottom of the pedal stroke. The handlebars and width of the pedal straps should be adjustable, too.

Feedback: You can pay extra for fun features such as preset workout programs, a heart-rate monitor, and games that let you race against the computer. But at the very least, your bike should have a speedometer that displays revolutions per minute (rpm) and miles per hour (mph), an odometer to measure distance, and a timer to keep track of minutes as they fly by.

One exception to this rule: Spinning-type bikes. These bikes, primarily used in group exercise classes, are also available for home purchase. They don't have feedback mechanisms, but they have other advantages worth a look. For example, their seat and handlebar positions make the machines feel more like outdoor bicycles. They're relatively inexpensive compared to most other high-quality stationary bikes, and you can buy workout videos specially designed to be used with these bikes.

A way to vary the difficulty: Look for a knob or button that indicates resistance levels, such as 1 through 12. This way you can accurately measure every workout and track your progress. If 10 minutes on Level 1 used to wear you out, but now you can breeze through 20 minutes on Level 3, you know you've come a long way.
Good brand names of stationary bikes
Here's a list of some recommended bikes. Remember to test-ride any model you're considering to make sure it's comfortable for you:
Non-computerized uprights ($200 - $500): Monark, Bodyguard, Schwinn, and Tunturi

Spinning-type uprights ($500 - $1,200): Schwinn, Keiser, and Reebok

Computerized uprights ($500 - $3,000): Lifecycle, Tectrix, Precor, Combi, and Cateye

Computerized recumbents ($500 - $2,000): Precor, Life Fitness, Body Guard, and Lifecycle
About This Article
This article can be found in the category: