Vegetables and animal protein are both low glycemic so combining the two makes for a great low-glycemic meal you can prepare quickly! The dark greens also give you a good source of vitamin A and vitamin C, not to mention fiber!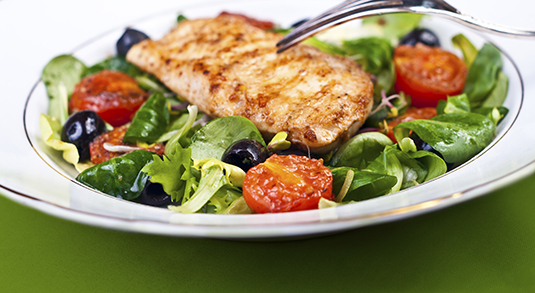 Preparation time: 10 minutes
Cooking time: 14 minutes
Yield: 4 servings
Specialty tool: Gas or charcoal grill, or grill pan
3/4 cup extra-virgin olive oil
2 tablespoons chopped fresh oregano
2 tablespoons balsamic vinegar
4 boneless, skinless chicken breast halves
Salt and ground black pepper to taste
One 5-ounce package baby spinach leaves
1 pound tomatoes (preferably heirloom) in assorted colors, cut into wedges
One 9-ounce container teardrop tomatoes (also called pear tomatoes)
1/2 cup halved and pitted Kalamata olives
1/4 cup feta cheese
Heat the grill or grill pan to medium-high heat.

Whisk together the olive oil, oregano, and vinegar in a medium-sized bowl. Pour out 1/4 cup for basting the chicken.

Lightly brush the chicken with the dressing you just made. Add the salt and pepper to taste and cook the chicken on the grill until it's fully cooked through, about 7 minutes per side. Transfer the chicken to a cutting board and let it cool.

While the chicken cools, combine the spinach, tomatoes, olives, and feta cheese in a large bowl. Toss with enough of the dressing to coat evenly (you may not need to use all of it). Season with the salt and pepper.

Cut the grilled chicken into thin 1/2-inch-thick strips. Top the salad with the grilled chicken strips and serve.
Per serving: Calories 271 (From Fat 85); Glycemic Load 0 (Low); Fat 10g (Saturated 3g); Cholesterol 81mg; Sodium 452mg; Carbohydrate 14g (Dietary Fiber 3g); Protein 31g.
About This Article
This article is from the book:
This article can be found in the category: