You can make fish tacos for a fun evening dinner or a lunch. Use small corn or whole-wheat tortillas to assure you stay low to medium glycemic. Serve it up with your favorite low glycemic toppings!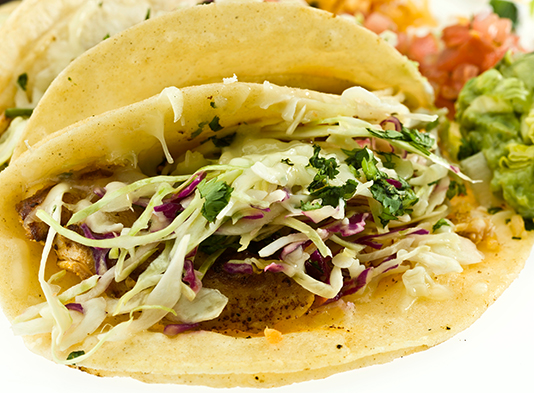 Preparation time: 20 minutes
Cooking time: 3 minutes
Yield: 4 servings
Specialty tool: Gas or charcoal grill, or grill pan
4 pieces (2 pounds) of cod or any other white fish
3 tablespoons fresh lime juice, plus 2 teaspoons
1/4 cup canola oil
2 teaspoons chili powder
1 teaspoon ground cumin
1 teaspoon ground coriander seeds
1/2 teaspoon oregano
2 teaspoons minced garlic
Salt to taste
2 cups finely shredded green cabbage
1 teaspoon honey
2 tablespoons minced green onion
2 teaspoons chopped cilantro
Eight 8-inch whole-wheat flour or corn tortillas
Preheat the grill or grill pan to medium-high.

Cut each piece of fish into 4 pieces for a total of 16 equal slices.

Combine the 3 tablespoons of lime juice with the canola oil, chili powder, cumin, coriander, oregano, garlic, and salt to make a marinade. Coat the fish with the marinade and set aside.

Mix together the green cabbage and the 2 teaspoons of lime juice, as well as the honey, green onion, and cilantro, in a small bowl and set aside.

Place the fish and a small amount of the marinade in aluminum foil and grill the fish for about 2 to 3 minutes on each side, or until cooked through.

6.Warm the tortillas in the microwave for 10 seconds.

7.Center 2 pieces of grilled fish on each tortilla and top with the cabbage mixture. Fold and serve.
Per serving: Calories 460 (From Fat 152); Glycemic Load 14 (Medium); Fat 18g (Saturated 2g); Cholesterol 86mg; Sodium 638mg; Carbohydrate 46g (Dietary Fiber 6g); Protein 42g.
About This Article
This article is from the book:
This article can be found in the category: