Every time you play the preparatory slur where you stop the violin bow between notes, that's slurred staccato! The stroke is like a slur because the bow continues in the same direction for the next note, but it's like staccato because the sound stops briefly between notes to get a little separation. Here, you see what signs indicate slurred staccato on the page.

Slurred staccato signs.
Make the brief bite that starts each stroke by adding a little weight to the first and second fingers on the bow, just as you initiate a quick bowing movement. If your thumb bites a little underneath the stick in sympathy with your finger power, that's fine, as long as it releases right away just as the stroke begins.
Moving on to the trusty "Homage to Kreutzer," shown below, you add some instances of slurred staccato for you to get your teeth (and bow) into. Notice that the number of notes is varied within one bow direction, so get out your calculator to figure the bow speeds and divisions!

"Homage to Kreutzer" with slurred staccato.
See the slurred staccato marks on this song, "Drink to Me Only." Use the middle of the bow, and use open strings freely while you learn the piece. You can always add a few choice finger 4s when your bowing feels familiar and comfortable. When you see a dot over the next note, you need to make a light stop of the bow on the string just before you nudge the bow for the next note.
At the end of measures 4 and 12, make a circular retake of the bow during the rests, so as to land the next down-bow back at the starting place for the next down-bow. Notice that some slurs are smooth, just for an extra challenge.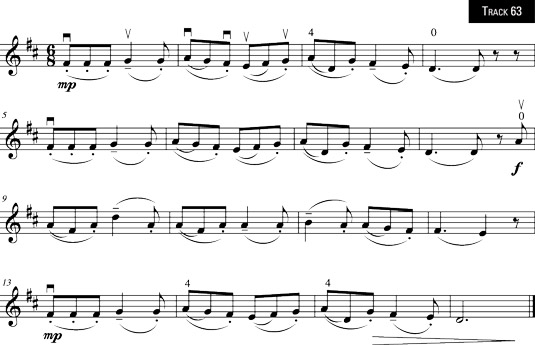 "Drink to Me Only"
About This Article
This article is from the book:
This article can be found in the category: