Perhaps your keyboard doesn't have onboard speakers, or you just want to enjoy some private practice time. Every electronic keyboard offers a headphone output for that purpose. (Often, if a keyboard does have onboard speakers, plugging a headphone in will automatically turn off the speakers. Smart, huh?)
Break down headphone varieties
You can use a number of different headphone types.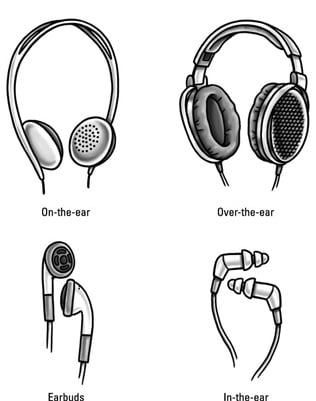 On-the-ear/earpad headphones: These headphones sit on your ears/earlobes and have some foam or cushioning covering the speakers for comfort. The sound quality coming out is typically good to very good, but they won't block out much of the surrounding sound. They also leak more sound, so others can listen in to what you're hearing

Over-the-ear headphones: Over-the-ear headphones sit over your whole ear and have a closed design that keeps the sound in and reduces external noises. They reproduce bass frequencies better than on-the-ear designs.

Earbuds: These options sit inside the center of your outer ear, held in place by the curves of your ear or sometimes a hook that goes around your ear. Their quality can vary wildly, from very cheap and poor sounding to very good. They don't tend to reproduce bass frequencies as well as over-the-ear choices and intentionally don't block out too much sound.

In-the-ear headphones: These specialized earbuds actually fit into the ear canal and can offer superb sound, bass frequency reproduction, and noise isolation. They can feel uncomfortable at first, though, and may take a little getting used to.
Headphones bring the sound very close to your ears (and in the case of in-the-ear varieties, right into the ear canal), so you should be careful about listening at high volumes. Many of the warnings advise against loud listening "for long periods of time," but it is best to play it safe.
Your hearing is precious and can easily be damaged by loud sound/music. Try to set the volume as low as you can while still hearing and enjoying it rather than as loud as you can before causing pain/bleeding!
Plug your headphones into your keyboard
Headphones and headphone outputs use two types of connectors. The receptacle on your keyboard that accepts the headphone is a jack and the connector at the end of the cable a plug. However, note that these terms are sometimes used interchangeably in other sources. Here's the breakdown:
The most common musical instrument/audio connector is called a 1⁄4-inch plug or phone plug. It's the largest plug used and makes a great connection because of its long shaft. It's available in mono and stereo versions, so be sure you have the stereo version, indicated by dual black rings near the tip of the plug.

Stereo allows the sound to come out of both speakers of your headphones; mono comes from only one side or the other, which you don't want.

There is also the increasingly common 3.5-millimeter plug, also called a mini-plug (and also called a 1⁄8-inch plug even though 1⁄8 inch doesn't quite equal 3.5 millimeters; don't ask!). This smaller option is used where space is at a premium. It's the most common plug size for mobile phones, media players, and most earbud headphones.

It makes a good connection but can be a bit fragile, so always be careful not to tug on the cable or put pressure on this connection. Make sure you have the stereo version.
Your headphones may well have a different-sized plug from your keyboard's headphone output. Adapters that can convert between these two sizes are very common and easily found at your local music store, electronics store, or online.
Armed with the right headphones and cable/connector, you can now plug in the phones to your keyboard. Do so before you put them over your ears. You can never be too safe about your hearing!
About This Article
This article is from the book:
This article can be found in the category: