The Gibson ES-335 is the true godfather of semi-acoustic electric guitars. This guitar is traditionally made from a laminated maple top, back, and sides, with a solid maple core running down the center of the body.
Any guitar of similar construction, though (which includes solid carved top and back), can be considered to be in this same category (such as the Epiphone ES-339, a scaled-down rendition of the classic Gibson ES-335).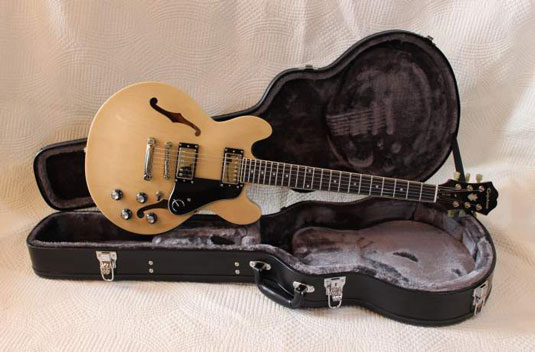 Credit: Photograph by Dave Hunter
Gibson's original premise for designing the ES-335, combining the best of solidbody and acoustic archtop electric guitars' properties, continues to make these guitars and many that are made like them very popular today.
Following are some of the benefits of the ES-335-style semi-acoustic guitar:
Better resistance to feedback than fully hollow electrics: With less unsupported thin wood in the body to vibrate, thanks to the solid core, these guitars don't tend to have feedback nearly as badly as big-bodied or fully hollow thinline electrics. They still experience feedback more easily than many solidbody electrics, but that's a trait that some players enjoy in them.

A sharper, more clearly defined sound: The solid block in the center of a semi-acoustic lends clarity and definition to its tone, when compared to many big-bodied archtop electrics.

Added sustain: Just as it cuts feedback and adds clarity to the tone, the solid-wood center improves the sustain of many semis. The solid core also allows the use of a bridge and tailpiece, on many models, that are mounted deep into the wood itself instead of requiring a floating bridge (one held only by the strings' pressure) as on many archtop acoustics, which further aids both sustain and note definition.

Enhanced archtop-like warmth and air: For all their solidbody-like properties, many semi-acoustics still offer some of the sonic depth and warmth and a sense of a rounder, more acoustic-like properties than you tend to get from a totally solid guitar.

Traditional looks: Many players simply enjoy the way a semi-acoustic's arched top and f-holes (the f-shaped soundholes used on many models) hark back to an earlier look for electric guitars.
If any or all of these characteristics appeal to you, then try out a semi-acoustic electric. They're available in a wide variety of styles and in a broad range of prices — many of which are better value than ever before.
About This Article
This article is from the book:
This article can be found in the category: