Electric guitarists need to change their strings more often than do acoustic guitarists. Because of this, electric guitars are built with hardware that makes the process of changing strings very quick and easy. Of the three types of guitars — steel-string acoustic, classical, and electric — you can change the strings on electric guitars most easily by far.
Some electric guitars, notably Fender Stratocasters and Telecasters, feature string retainers that pull the top two or four strings down low onto the headstock to improve tone, sustain, and playability. As you would on steel-string acoustic and nylon-string guitars, begin stringing an electric guitar by first securing the string to the bridge and then running the string through the retainer before attaching the string to the headstock.
Electric strings, like steel acoustic strings, have ball ends and are made of metal, but electric strings are usually composed of a lighter-gauge wire, and the 3rd string is unwound, or plain, whereas a steel-string acoustic guitar's 3rd string is wound.
Remove the old string (if you haven't already).
It's okay to remove all the old strings before you start restringing. It won't damage the guitar.
Anchor the string at the bridge by passing the string through the hole (from the back or bottom of the guitar) until the ball stops the movement.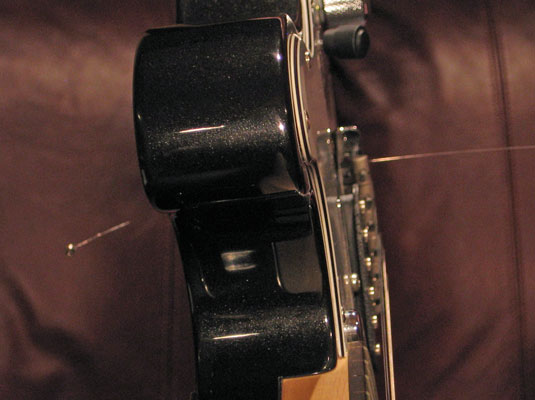 The ball holds the string just as the knot at the end of a piece of thread holds a stitch in fabric. This procedure is the same for almost all electric guitars. However, there are a few exceptions, such as those fitted with a Floyd Rose mechanism.
Pass the first and second strings through the string retainer.
Most string retainers have an opening at the top that you can slip the string through. On others, you need to slide the string under the retention mechanism.
Pass the string through the hole or slot in the post.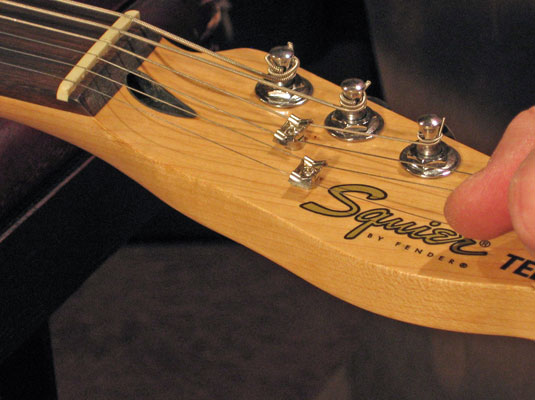 Be sure that the strings go into the correct slot in the nut. Leave enough slack between the bridge pin and the tuning post to enable you to wind the string around the post several times.
Kink (or crease) the metal wire toward the center of the electric guitar's headstock.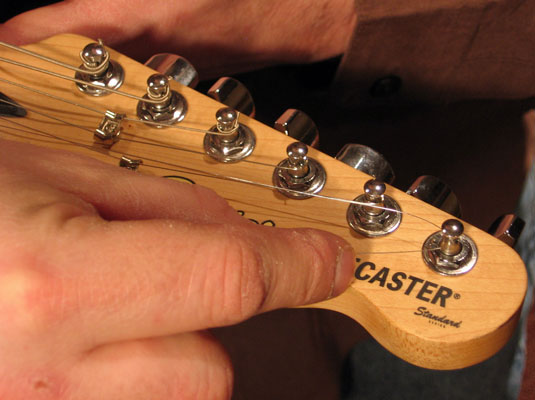 Leave enough slack for winding.
While keeping the string tight against the post with one hand, wind the tuning peg clockwise with the other hand.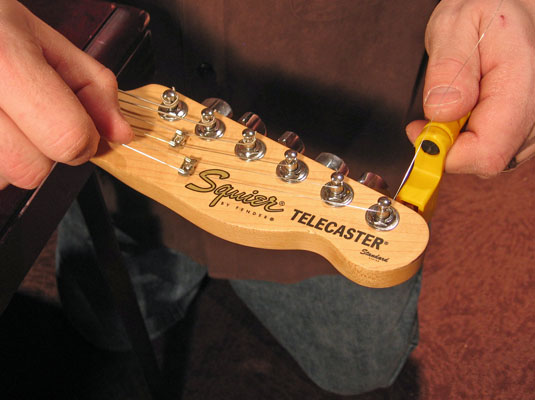 This step is a bit tricky and requires some manual dexterity (but so does playing the guitar). Keep your eye on the post to ensure that as the string wraps around the post, it winds down, toward the headstock surface.
About This Article
This article can be found in the category: