If you're a typical product of American pop culture, you may be surprised to find the tuba listed in a discussion of classical music. You're likely to associate the tuba with the fat kid in movie versions of high-school marching bands.
But the tuba should get more respect. This massive instrument is capable of producing a wall of sound that can blow you away. Keep reading for more about tubas.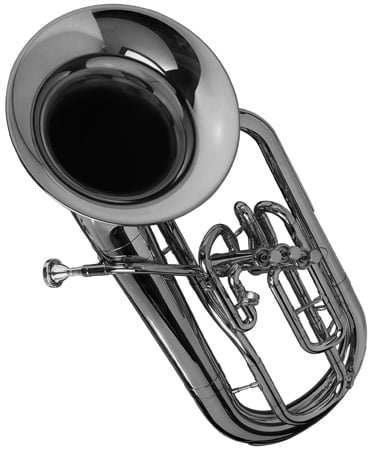 Credit: Source: Creative Commons
The tuba.
A gaggle of tubas
The German composer Richard Wagner first imagined that wall of sound — and he is responsible for today's bass tuba. (In fact, he invented a whole flock of tubas in different sizes, but hardly anyone ever uses the smaller ones these days.) He wanted to create a sound that was similar to the French horn but with strong low notes. These so-called "bass" notes can support the entire brass section of an orchestra or band.
Actually, the stereotype of the big tuba player has its basis in reality; you would be hard-pressed to find a really diminutive tubist, mainly for the same reason that opera singers are sometimes hefty: Playing a tuba takes an incredible amount of breath support. Just think of the size of the thing. It's enormous! And you've got to fill the thing with air continuously.
As for its operation — well, the tuba works much like a French horn. It has a mouthpiece and rotary valves to aid in the pitch-changing. A virtuoso tubist is surprisingly agile and can play amazingly quickly.
Hearing the tuba
Tuba concertos are as rare as trombone concertos.
But here are some very good ones:
Ralph Vaughan Williams: Tuba Concerto

John Williams: Tuba Concerto
And you simply must hear these tuba solos from the orchestral literature:
George Gershwin: An American in Paris

Stravinsky: Petrushka (the section called Peasant with Bear)

Modest Mussorgsky, arranged by Ravel: Pictures at an Exhibition (the movement called Bydlo)
About This Article
This article is from the book:
This article can be found in the category: