No one can deny that Rachmaninoff was a significant influence to classical music. Although he lived until 1943, Sergei Rachmaninoff ("rock-MAHN-i-noff"; 1873–1943) was a true Russian Romantic. He grew up in St. Petersburg and studied at the conservatory there, absorbing everything that the great Russian masters such as Tchaikovsky and the Mighty Fistful had to offer. (At his graduation, Tchaikovsky gave him the highest mark anyone had ever seen: the equivalent of "A++++.")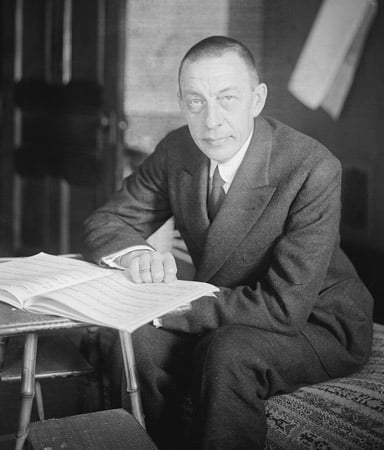 Credit: Source: Creative Commons
Sergei Rachmaninoff, the Russian piano master.
When Rachmaninoff moved to the United States around the time of the Russian Revolution, he brought the spirit of his country with him. Beneath his cold, forbidding appearance lurked one of the warmer hearts in the business. (Don't be put off by the fact that his works are almost all in a minor key or that they have such titles as Isle of the Dead.) Keep reading for more facts about Rachmaninoff.
Sergei gets hypnotized
Early in his career, Rachmaninoff went through a long period of "composer's block." After the disastrous premiere of his Symphony no. 1, Rachmaninoff suffered a serious nervous breakdown, lost his inspiration, and couldn't compose another note. Only after he visited a hypnotist could he get past his block.
After his recovery, Rachmaninoff's next creation was the Second Piano Concerto — by far his most popular piece. He dedicated the piece to his hypnotist.
Sergei was a phenomenal pianist, and he wrote many of his famous compositions (such as that piano concerto) for himself to play for a particular occasion. Today, he's best known for those piano pieces — and for his nicknames.
Musicians refer to him as "Rocky"; his Second Piano Concerto is called "Rocky 2"; and his demonically difficult Piano Concerto no. 3 — the one that gave pianist David Helfgott a nervous breakdown, as dramatized in the 1996 movie Shine — is known as "the Rach 3," or just "Rocky 3."
Rocky on recording
Here are the pieces of Rachmaninoff that you should hear first. For orchestral forces, try these:
Piano Concerto no. 2 in C minor, opus 18

Piano Concerto no. 3 in D minor, opus 30

Rhapsody on a Theme of Paganini, opus 43

Symphony no. 2 in E minor, opus 27
And for piano solos, give these a listen:
Prelude in C-sharp minor, opus 3, no. 2

Prelude in D major, opus 23, no. 4

Piano Sonata no. 2 in B-flat minor, opus 36
About This Article
This article is from the book:
This article can be found in the category: