Like Mozart and Beethoven before him, German-born Johannes Brahms (1833–1897) was a classical music child prodigy. Luckily for him and for us, his father (a bass player) recognized and nurtured his talent during the formative years.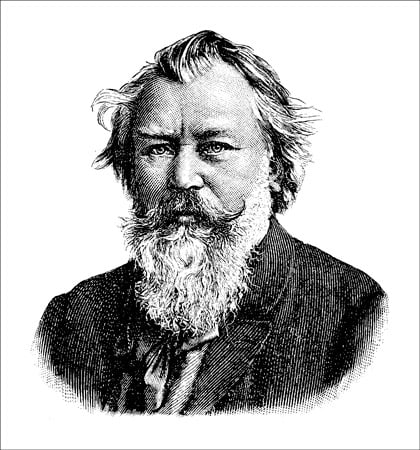 Credit: Source: Creative Commons
Johannes Brahms, one of the greatest of all composers of classical music.
But unlike his musical predecessors, who acquired musical posts in such exalted surroundings as cathedrals and castles, Brahms, got jobs playing piano in Hamburg's taverns and brothels. Still, a job was a job, and Brahms became familiar with a huge amount of music — especially dance music, which he performed every night during his teenage years.
A lucky break
Brahms was 20 when he got to meet the famous Robert Schumann. Upon experiencing Brahms' music, Schumann knew he was in the presence of a genius.
But Robert wasn't the only Schumann who took an interest in young Brahms; so did Robert's pretty wife, Clara. History doesn't record exactly how close she and Brahms became — except to note that after Robert Schumann's death, Brahms and Clara spent more and more time together.
Eventually, Brahms became one of the leading composers of the day; his fame spread throughout his native Germany and beyond.
The big leagues
The celebrity German pianist/conductor Hans von Bülow coined the phrase "the three B's: Bach, Beethoven, and Brahms." This honor must have been incredibly flattering to Brahms, but it also saddled him with a great feeling of responsibility to carry on the great German-Austrian tradition in music. He even settled in Vienna, where all the greatest masters had lived.
Brahms carried out his responsibility well, adding a warm, rich, Romantic expressiveness to the forms and structures of Baroque and Classical music. But he was one of the most self-critical composers in history. He threw out dozens or even hundreds of compositions before anyone had a chance to hear them. In fact, he didn't publish his first symphony until he was 43. By way of contrast, by the time Mozart was that age, he'd published 41 symphonies, died, and been buried for eight years.
What's amazing is that Brahms' music, so lush in harmony and charming in style, was considered academic, plodding, harsh, and sometimes even dissonant by the public of his time. As recently as 1930, a concertgoer at a major American concert hall added some graffiti to an exit sign to make it read: "Exit in Case of Brahms."
The reason for these complaints is that melody was not Brahms' strongest suit. Like Beethoven, he often worked with little musical ideas called motives — just two- or three-note licks, for example — and worked them out in ingenious ways, exploring all the possibilities and permutations. The result was stunning, but not always what you'd call hummable.
Brahms certainly wished that he'd been blessed with a gift for catchy tunes, however. "I would give up everything I have ever composed," he once said, "to have written the Blue Danube Waltz!"
Boning up on Brahms
Because there's perfection aplenty in most of Brahms' works, you can start almost anywhere and get an awesome sampling. But here are some of our favorites.
For orchestral forces, try the following:
All four of his symphonies — but listen to no. 2 first!

Variations on a Theme by Joseph Haydn

Piano Concerto no. 2 in B-flat major, opus 83

Violin Concerto in D major, opus 77

Ein Deutsches Requiem (also known as A German Requiem) for solo singers, chorus, and orchestra
And for smaller forces, check out these pieces:
Sonata for Violin and Piano no. 1 in G major, opus 78

Intermezzi for Piano, opus 118
About This Article
This article is from the book:
This article can be found in the category: