Many think that revenues in the music business come only from CDs, downloads, and concert gigs. But revenues can come from nearly countless different sources. Take, for example, the following list of different revenue sources:
T-shirts and other wearables such as hats, sweatshirts, tank tops, and so on

Posters

Backstage pass product

Items with your logo such as key chains, coffee cups, tote bags, and more

Custom merchandise items, such as wine, clocks, jackets, and other special orders

TV licensing

Samples

Sponsored and nonprofit gigs

Publishing

Private/house gigs

Composing for and selling songs to other artists

Foreign translations

Corporate video licensing
When creating the best music business plan possible, it's crucial that you build as many avenues to revenue as possible. It's hard to expect all monies to come in from touring or music sales. The more you diversify your revenue options, the better chances you have to make the money.
Buy in bulk! When it comes to the CDs, consider buying a CD burner and printer to create CDs or DVDs yourself. When it comes to ordering T-shirts, add as much as you can to your budget so you can purchase bulk amounts that enable you to make more in revenues on every sale.
An investor or backer is going to want to clearly see how they are going to get their investment and money back.
Showcase as many different revenue-generating methods as possible as well as estimate with an extra conservative approach. Your chances of being funded are much better than if you claim you plan to sell a million CDs overnight.
Three levels of estimated revenues
Building three levels of revenue projects can help instill confidence in your investors. Model 1, the most conservative of the three models, shows investment payback plus the agreed-upon interest. It also reflects enough to pay the all taxes and shows a modest profit. Model 2 showcases a high revenue estimate in between Models 1 and 3, whereas Model 3 is the most liberal estimate of them all.
For example, Model 1 shows an investment of $1,000,000 at a high interest return of 25 percent and no future percentages. In this scenario, a basic estimation of revenue is around $1.5 million — you can pay back the $1,000,000 investment plus the $250,000 interest as well as have 20 percent extra for taxes and a small profit left over.
So for Model 2, with $1,000,000 invested and $2,000,000 brought in, the initial investment sees double on the return.
And Model 3, the most aggressive of the three different models, shows $1,000,000 invested and $3,000,000 in revenue. Everyone is happy, and everyone did very well.
Spread the love and the revenues
When you think about how to reach a fan, you want to think about a better engagement with an existing fan as you reach out to a new one. Putting constant pressure on existing fans while chasing new fans with the same old product has become ineffective. Instead, give your audience — both the existing fans and the new ones — something fresh more often.
Instead of going into the studio and pushing out a 20-song album and releasing merchandise items all at once, imagine if you went the route of rolling out new and exciting merchandise items over the course of several months. Think of the anticipation this would conjure up as you spread out swag for your fans and revenues for you and your investors.
By releasing a music product in the first week of each month and a merchandise product in the third week of each month, every 14 days you introduce something new. At the same time, you market the previous items that have already come out.
Your new model calendar
Imagine that you have 20 songs in the can, the hat, T-shirt, sticker, bracelet, phone cover, computer skin, shot glass, coffee cup, poster, sweatshirt, vinyl pressing, and a tote bag.
Then you take 10 of the 20 songs and put them on two EPs (extended plays) with 5 songs on each. The first EP launches in month 1 of the project the second in month 7. Then the remaining ten tracks are launched one each month in between the two EPs. For the merchandise, you have 12 items that can be launched once a month, two weeks after the music at the top of the month and two weeks before the music coming the following month.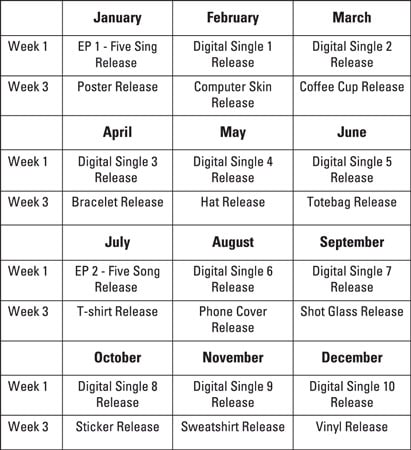 A calendar that shows when music and merchandise are released to fans.
This format allows for 24 different times when you get to talk about music and items being new. Then, with each new release, as you send fans to the stores where you have the items for sale, your first pitch is something new, followed by a mention of other merchandise items previously available.
Cross-market your items with exclusivity. For example, one of the songs from your EP, CD, or vinyl small pressing should not be available for digital download. Give the exclusivity that fans need to buy the disc or they won't be able to get the song. The same can go the other way around that one track is only available for digital download and is not available on any physical formats.
You don't have to record everything at once. You can set up the budget to allow for an extended releasing format and offer more revenue options that give a sense of constant newness.
The more you spread your revenue sources across a longer period of time, the better the chance you have to make that much more from each product as you continue to gain more and more exposure for what was just released, what's coming next, and what's come out in the past. This also helps to estimate more revenue from each of these sources for your music business plan.
About This Article
This article is from the book:
This article can be found in the category: