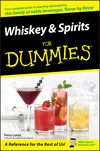 Whiskey and Spirits For Dummies
ISBN: 978-0-470-11769-9
Paperback
364 pages
November 2007
US $19.99

Add to Cart
Introduction.
Part I: Entering the Spirits World.
Chapter 1: Discovering Distilled Spirits.
Chapter 2: How Distilled Spirits Are Created.
Chapter 3: Enjoying Spirits.
Part II: Whiskeys from Around the World.
Chapter 4: Sipping the Irish Whiskeys.
Chapter 5: Saluting the Scots.
Chapter 6: American Cousins: Bourbon and Tennessee Whiskey.
Chapter 7: More Whiskeys from America and Other Parts of the World.
Chapter 8: Channeling the Canadians.
Part III: Surfing the White Waters: A Guide to "Clear" Spirits.
Chapter 9: Getting the Goods on Gin.
Chapter 10: Vodka: Toasting the Russians.
Chapter 11: Tequila: Unearthing the Aztecs.
Chapter 12: Yo Ho Ho and a Bottle of Rum.
Part IV: Enjoying the "After Dinner" Specials.
Chapter 13: Cultivating Brandy.
Chapter 14: Collecting Cordials, Lining Up Liqueurs.
Part V: The Part of Tens.
Chapter 15: Ten (or so) Classic Spirits Cocktails.
Chapter 16: Ten Spirited Dishes.
Chapter 17: Ten Nutrition Profiles of Alcohol Beverages.
Chapter 18: Ten (or so) Health Benefits of Moderate Drinking.
Index.