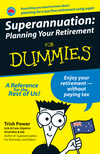 Superannuation: Planning Your Retirement For Dummies
ISBN: 978-0-7314-0982-2
Paperback
320 pages
September 2011
US $19.99

Add to Cart
Created especially for the Australian customer!
Plan for a secure retirement using superannuation
With the latest government reforms and concessions, superannuation is now one of the most powerful tools available for effectively planning for your retirement. Packed with expert tips, Superannuation: Planning Your Retirement For Dummies explains all the issues in plain English -- helping you focus on your long-term retirement lifestyle.
Discover how to:
Work out how much money is enough
Increase your contributions and your fund balance
Determine whether you can retire early
Decide between taking a lump sum or an income stream
Make the most of the Age Pension and other concessions