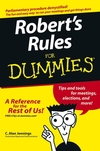 Robert's Rules For Dummies
ISBN: 978-0-7645-7574-7
Paperback
360 pages
December 2004
This title is out-of-print and not currently available for purchase from this site.
Introduction.
Part I: It's Parliamentary, My Dear: Participating Effectively in Meetings.
Chapter 1: Following the Rules (Robert's, That Is).
Chapter 2: Defining the Organization: Bylaws and Other Rules.
Chapter 3: Meetings: Making Group Decisions.
Chapter 4: Starting with Notice and a Quorum.
Chapter 5: Taking Care of Business without Wasting Time: Order of Business and Agenda.
Part II: Motions: Putting Ideas into Action.
Chapter 6: Main Motions: Proposing Ideas for Group Action.
Chapter 7: Debate: Discussing the Pros and Cons of Ideas.
Chapter 8: Making Group Decisions: Voting on the Motion.
Chapter 9: Subsidiary Motions: Helping to Process the Main Motion.
Chapter 10: Privileged Motions: Getting Through the Meeting.
Chapter 11: Incidental Motions: Dealing with the Questions of Procedure.
Chapter 12: Haven't We Talked About This Already? Motions Which Bring a Question Again Before the Assembly.
Part III: Getting Involved in Leadership.
Chapter 13: Who's Going to Do the Work? Following Nomination Procedures.
Chapter 14: Holding Elections and Making Appointments.
Chapter 15: Running the Show: Officers and Directors.
Chapter 16: Gearing Up for the Real Action: Committees.
Chapter 17: Reporting to Your Organization.
Chapter 18: We Gotta Get Rid of this Guy! Disciplining and Removing Officers or Members.
Part IV: The Part of Tens.
Chapter 19: Ten (Or So) Meeting Procedure Myths.
Chapter 20 Ten Tips for Presiding Officers.
Chapter 21: Ten Motion Mistakes to Avoid.
Part V: Appendixes.
Appendix A: Glossary of Parliamentary Terms.
Appendix B: Sample Agendas, Reports, and Minutes.
Index.