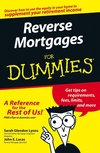 Reverse Mortgages For Dummies
ISBN: 978-0-7645-8446-6
Paperback
288 pages
June 2005
US $16.99

Add to Cart
Introduction.
Part 1: Understanding the Basics of a Reverse Mortgage.
Chapter 1: Figuring Out the Reverse Mortgage Basics.
Chapter 2: Deciding Whether a Reverse Mortgage Is Right for You.
Chapter 3: Having the Right Stuff: Borrower Qualifications.
Chapter 4: Repaying Your Loan.
Part II: Going Shopping: Product Options.
Chapter 5: Following the Crowd: The Home Equity Conversion Mortgage.
Chapter 6: Figuring Out the Fannie Mae Home Keeper Loans.
Chapter 7: Jumping into Jumbo Cash Accounts.
Part III: Taking the Plunge.
Chapter 8: Taking the First Step: Seeing a Counselor.
Chapter 9: Working on Step Two: Your Originator.
Chapter 10: Going Forward with Step Three: Getting Appraised.
Chapter 11: Sealing the Deal with Step Four: Closing.
Part IV: Giving Advice for Adult Children.
Chapter 12: Supporting Your Parents.
Chapter 13: Knowing the Impact of a Reverse Mortgage on Your Inheritance.
Chapter 14: Getting Durable Power of Attorney.
Part V: The Part of Tens.
Chapter 15: Top Ten What Ifs When Considering a Reverse Mortgage.
Chapter 16: Ten Resources for Securing a Reverse Mortgage.
Chapter 17: Ten Common Mistakes Borrowers Make.
Appendix: Glossary.
Index.