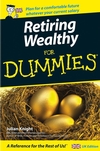 Retiring Wealthy For Dummies
ISBN: 978-0-470-02632-8
Paperback
338 pages
February 2012
US $21.50

Add to Cart
Introduction.
Part I: Plotting Your Way to a Wealthy Retirement.
Chapter 1: Building Your Retirement Dream.
Chapter 2: Figuring Out Your Retirement Goals.
Chapter 3: Knowing How Much You're Worth.
Chapter 4: Picking a Money Philosophy.
Chapter 5: Getting Help with Your Retirement Plan.
Part II: Laying the Bedrock: Pensions.
Chapter 6: Making the Most of State and Workplace Pensions.
Chapter 7: Hoarding Your Very Own Pot of Cash: Personal Pensions.
Chapter 8: Taking Control with a Sipp.
Chapter 9: Working with Your Pension.
Part III: Building Up a Nest Egg: Saving and Investing.
Chapter 10: Starting Out on Savings and Investments.
Chapter 11: Exploiting Bonds to Boost Your Wealth Prospects.
Chapter 12: Making Your Fortune through Shares.
Part IV: Using Property to Boost Your Retirement Pot.
Chapter 13: Making the Most of Mortgages and Equity Release.
Chapter 14: Maximising the Value of Your Property.
Chapter 15: Buy-to-Letting Your Way to Riches.
Part V: Alternative Investment Strategies: The Wealth Is Out There.
Chapter 16: Making a Mint from Collectables.
Chapter 17: Taking a Walk on the Wild Side: Alternative Investments.
Part VI: The Part of Tens.
Chapter 18: Ten Ways to Cut Your Tax Bill.
Chapter 19: Ten Things That Can Stop You Retiring Wealthy.
Chapter 20: Ten Savvy Financial Moves.
Chapter 21: Ten Ways to Boost Your Income.
Index.