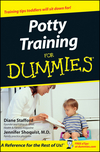 Potty Training For Dummies
ISBN: 978-0-7645-5417-9
Paperback
264 pages
June 2002
US $14.99

Add to Cart
Introduction.

Part I: Setting Up for Success.

Chapter 1: Launching the Potty-Training Adventure.

Chapter 2: Assembling Your Team.

Chapter 3: Using the Tools of the Trade and Dressing for Success.

Part II: It's All in the Timing.

Chapter 4: Recognizing Readiness Signs.

Chapter 5: Choosing the Right Time.

Part III: Surefire Steps for Ditching Diapers.

Chapter 6: Prepping for the Big Game.

Chapter 7: Dancing the Potty Mambo.

Chapter 8: Keeping a Good Thing Going.

Chapter 9: Training Outside the Home.

Part IV: Using Psych-Up Skills.

Chapter 10: Staying on Message.

Chapter 11: Understanding Your Trainee.

Chapter 12: Getting By with a Little Help.

Part V: Coping with Special Cases.

Chapter 13: Managing Major-League Backsliding.

Chapter 14: Dealing with Day-Slippers and Bed-Wetters.

Chapter 15: Handling a Hardcore Balker.

Chapter 16: Soiling Beyond Toddler Years.

Chapter 17: Training Children with Disabilities.

Part VI: The Part of Tens.

Chapter 18: Ten Answers from the Expert.

Chapter 19: Ten Ways to Pump Up Potty Prowess.

Chapter 20: Ten Reasons to Let Your Child Lead.

Chapter 21: Ten Woulda-Couldas If You Got Do-Overs.

Index.