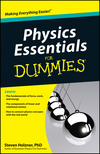 Physics Essentials For Dummies
ISBN: 978-0-470-61841-7
Paperback
192 pages
May 2010
US $9.99

Add to Cart
Introduction.
Chapter 1: Viewing the World through the Lens of Physics.
Chapter 2: Taking Vectors Step by Step.
Chapter 3: Going the Distance with Speed and Acceleration.
Chapter 4: Studying Circular Motions.
Chapter 5: Push-Ups and Pull-Ups: Exercises in Force.
Chapter 6: Falling Slowly: Gravity and Friction.
Chapter 7: Putting Physics to Work.
Chapter 8: Moving Objects with Impulse and Momentum.
Chapter 9: Navigating the Twists and Turns of Angular Kinetics.
Chapter 10: Taking a Spin with Rotational Dynamics.
Chapter 11: There and Back Again: Simple Harmonic Motion.
Chapter 12: Ten Marvels of Relativity.
Index.