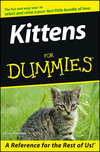 Kittens For Dummies
ISBN: 978-0-7645-4150-6
Paperback
344 pages
December 2003
This title is out-of-print and not currently available for purchase from this site.
Introduction.
Part I: Your Companion for Life.
Chapter 1: Getting the Lowdown on Owning a Kitten.
Chapter 2: Choosing the Right Kitten for You.
Chapter 3: Buying a Registered Kitten.
Chapter 4: Adopting a Random-Bred or Special Needs Kitten.
Part II: Preparing for and Bringing Home Your Kitten.
Chapter 5: Making Your Kitten Comfy.
Chapter 6: Welcome Home, Kitty!
Chapter 7: Providing a Meal Fit for a Kitten King.
Part III: Caring for Your Kitten.
Chapter 8: Out of Harm's Way: Ensuring Your Kitten's Safety.
Chapter 9: Recognizing Common Illnesses and Diseases.
Chapter 10: An Ounce of Prevention.
Chapter 11: Cleanliness Is Next to Catliness.
Chapter 12: I'm Leaving on a Jet Plane: What Should I Do?
Part IV: Kitten Psychology: Understanding Your Furry Friend.
Chapter 13: What Did You Meow? Understanding Felinese.
Chapter 14: Managing Behavior Problems.
Chapter 15: Keeping Your Kitten Entertained and Out of Trouble.
Part V: Welcoming the Unplanned Kitten.
Chapter 16: Rescuing an Older Kitten in Need.
Chapter 17: Critical Care for Orphans.
Chapter 18: Combating Health and Behavior Concerns Common to Orphans.
Chapter 19: All Grown Up: What Should I Do?
Part VI: The Part of Tens.
Chapter 20: Ten Common Kitten Emergencies and How to Deal with Them.
Chapter 21: Ten Ways to Bond with Your Kitten.
Index.