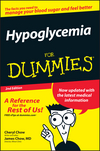 Hypoglycemia For Dummies, 2nd Edition
ISBN: 978-0-470-12170-2
Paperback
288 pages
March 2007
US $18.99
Add to Cart
Cheryl Chow
has been a freelance writer, editor, and journalist for more than 20 years, concentrating on health and social issues. She has a diverse writing background, having written for magazines, newspapers, webzines, and literary magazines. She and Dr. Chow have coauthored a reference book on hepatitis and other liver diseases.
Coming from a family with a long line of medical doctors, Chow has always been fascinated by medicine and science. After obtaining a BA in psychology from Reed College, she pursued her own studies into the effects of mind over body, and vice versa. She has conquered her own bouts with hypoglycemia, fatigue, and other health issues through attention to lifestyle and diet. She has studied T'ai Chi, chi kung, ba gua, and meditation from some world-renowned teachers, and has also taught T'ai Chi exercises for health.
James H. Chow, MD, is the founder, CEO, and medical director of multispecialty clinics offering integrative medicine and diverse treatment modalities located in New York, Westchester, Chicago, Atlanta, and San Diego. Dr. Chow specializes in emergency and family medicine. Before he went into private practice almost 20 years ago, he was the director of the emergency department at Mt. Sinai Hospital in Chicago for seven years. As an emergency doctor at one of the busiest hospitals in the U.S., he has encountered and treated almost every imaginable type of illness and injury. Dr. Chow is licensed to practice medicine in Illinois, Georgia, and New York.
In 1996, Dr. Chow helped set up an American-style clinic in Beijing. Dr. Chow is a member of American Academy of Emergency Medicine, American Academy of Physician Executives, American Academy of Sports Medicine, American Academy of General Medicine, American Academy of Family Practice, Nippon Industrial Medicine Association, and American Japanese Physicians Association. Having too much time on his hands, Dr. Chow is currently involved with various medical projects. He's known among his friends and associates for his unbounded energy, personal warmth, and sense of humor — had he not become a medical doctor, Dr. Chow could undoubtedly have become a comedian.