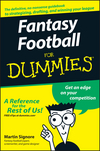 Fantasy Football For Dummies
ISBN: 978-0-470-12507-6
Paperback
288 pages
July 2007
US $16.99

Add to Cart
Introduction.
Part I: The Xs and Os of Fantasy Football: Just the Basics, Please.
Chapter 1: The Reality of Fantasy Football: What's It All About?
Chapter 2: Just Score, Baby: The Name of the Fantasy Game.
Chapter 3: Finding a League Right for You.
Chapter 4: Preparing for Your Fantasy Draft.
Part II: Advanced Scouting and Drafting Secrets.
Chapter 5: Scouting Running Backs and Quarterbacks.
Chapter 6: Scouting Wide Receivers and Tight Ends.
Chapter 7: Scouting Kickers and Defenders.
Chapter 8: Incorporating Important Draft Strategies into Your Game.
Chapter 9: Considering Other Draft Tactics to Build a Winning Team.
Part III: Let the Games Begin: In-Season Strategy Guide.
Chapter 10: Setting Your Weekly Starting Lineup.
Chapter 11: Acquiring Players via Free Agency, Waivers, and Trades.
Chapter 12: Finishing Strong: Down the Stretch to the Fantasy Playoffs.
Part IV: The Research Guide to Online Play.
Chapter 13: Playing Yahoo! Fantasy Football: Simple and Effective.
Chapter 14: Trying CBS Sportsline: Professional Pigskin.
Chapter 15: ESPN Fantasy Football: Virtual Sportscenter 24/7.
Chapter 16: Checking Out Some Other Popular Providers.
Part V: The Part of Tens.
Chapter 17: Ten Quick Fixes to Make the Day after Your Draft.
Chapter 18: Ten Newbie Mistakes to Avoid.
Index.