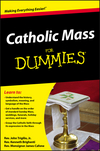 Catholic Mass For Dummies
ISBN: 978-0-470-76786-3
Paperback
288 pages
May 2011
US $16.99

Add to Cart
Introduction.
Part I: The Lord Be with You: Welcome to Mass.
Chapter 1: Understanding the Mass.
Chapter 2: The Foundations of Mass.
Chapter 3: The Liturgical Year.
Chapter 4: Meet the Players: Liturgical Ministers.
Part II: Forms of Catholic Worship.
Chapter 5: Ordinary Form of the Mass.
Chapter 6: Extraordinary Form: Traditional Latin Mass.
Chapter 7: Variations in the Ordinary Form.
Chapter 8: Extending the Mass: Liturgy of the Hours and Eucharistic Devotions.
Chapter 9: Eastern Catholic Divine Liturgy.
Chapter 10: Other Catholic Rites.
Part III: Tools of the Trade.
Chapter 11: Liturgical Books.
Chapter 12: Liturgical Vestments.
Chapter 13: Liturgical Vessels, Altar Linens, and Artifacts.
Chapter 14: Architecture, Art, and Music.
Part IV: The Part of Tens.
Chapter 15: Ten Special Places of Eucharistic Miracles.
Chapter 16: Ten Saintly Commentaries on the Holy Sacrifice of the Mass.
Part V: Appendixes.
Appendix A: The Mass in Latin, English, and Spanish.
Appendix B: Revisions in the English Translation of the Mass.
Index.