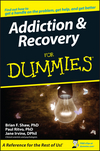 Addiction and Recovery For Dummies
ISBN: 978-0-7645-7625-6
Paperback
320 pages
December 2004
US $18.99

Add to Cart
Foreword.
Introduction.
Part I: The Hole in the Heart: Detecting Addiction.
Chapter 1: Addiction: What Is It?
Chapter 2: Substance Use, Substance Abuse, and Addiction.
Chapter 3: Behavioral Addictions: Addictions Without Substances.
Chapter 4: Dancing with the Tiger: The Risks of Experimenting.
Part II: Taking Those First Steps.
Chapter 5: Recognizing Addiction in Yourself and Others.
Chapter 6: Assessing Your Readiness: Do You Need Help Now?
Chapter 7: Quitting: Easy to Say, Hard to Do.
Part III: Examining Treatment Approaches.
Chapter 8: Treatment Choices.
Chapter 9: Reviewing Inpatient and Outpatient Treatment Options.
Chapter 10: Treating Physical Dependence.
Chapter 11: Twelve-Step Programs.
Chapter 12: Joining Self-Help and Support Groups.
Chapter 13: Alternative Treatments.
Chapter 14: Teen Treatment.
Part IV: Life in Recovery.
Chapter 15: Overcoming Barriers to Recovery.
Chapter 16: Handling Slips and Relapse.
Chapter 17: Handling Work and Family During Recovery.
Chapter 18: For Families and Friends: Ways to Make a Difference.
Part V: The Part of Tens.
Chapter 19: Ten Ways to Help a Friend or Loved One.
Chapter 20: More Than Ten Self-Help Resources.
Index.