What Kinds of Questions Can You Ask Siri?
The beauty of Siri on your iPhone is that you don't have to follow a designated protocol when talking to her. Asking, "Will I need an umbrella tomorrow?" (which Siri heard as "Well I need . . ."), produces the same result as "What is the weather forecast around here?"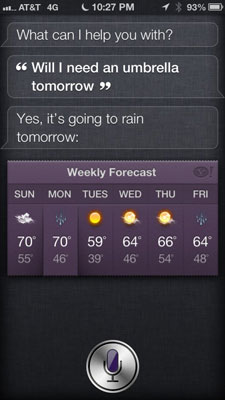 If you're not sure what to ask, tap the circled i to list sample questions or commands. You can tap on any of these examples to see even more samples.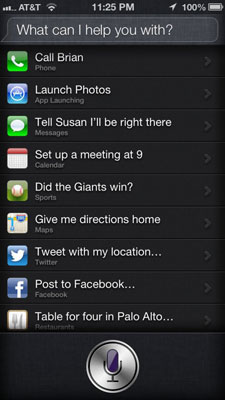 Here are some of the ways Siri can lend a hand, um, voice:
Phone: "Call my wife on her cell phone."

Music: "Play Frank Sinatra."

Messages: "Send a message to Nancy to reschedule lunch."

Calendar: "Set up a meeting for 9 a.m. to discuss funding."

Reminders: "Remind me to take my medicine at 8 a.m. tomorrow."

Maps: "Find an ATM near here."

Mail: "Mail the tenant about the recent check."

Stocks: "What is the Dow at?"

Web search: "Who was the 19th president of the United States?"

WolframAlpha: "How many calories are in a blueberry muffin?"

Clock: "Wake me up at 8:30 in the morning."

Sports: "Who is pitching for the Yankees tonight?

Trivia: "Who won the Academy Award for Best Actor in 2003?"

Twitter: "Send Tweet, Going on vacation, smiley-face."