Overview of the Surface People App
Open the People app on your Surface with a tap on its Start screen tile, and the People app appears, listing every friend grabbed from your online social networks. And, in keeping with the latest computing trend, People alphabetizes your contacts by their first names. Your friend Adam Zachman finally appears first.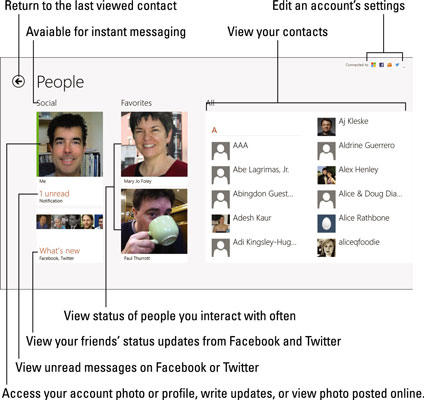 The People app updates itself automatically, adding and dropping people as they enter or leave your social networks.
However, people who don't share their lives through a social network stay out of reach of the People app. Also, networks like Facebook contain huge switchboxes full of privacy controls. Some of your friends may have flipped a Facebook switch that keeps their information sequestered in Facebook's walled garden and away from the clutches of the People app.
The point? You eventually need to remove your gloves and manually add or edit entries in the People app.
Tapping your way through the People app can lead you to friends, their adventures, and even the adventures of your friends' friends. If you're feeling lost in a sea of people, slide your finger up from the screen's bottom edge and tap the Home button. That takes you back to the front page.

When a contact is available to receive an instant message, a thin green bar appears along their picture's left edge. To make yourself Invisible—unavailable for instant messaging—open the Messaging app and change your status to Invisible.