Military Flight Aptitude: Fixed-Wing Aircraft
When many people think about flying a military aircraft, they're thinking about flying a fixed-wing airplane. Although you can find many different kinds of fixed-wing aircraft, the following sections cover the major types that you encounter as a military aviator.
Fighter aircraft
Fighter aircraft are designed to gain air superiority over the battlefield and to ensure the safety of U.S. service members from enemy air counterstrikes. Later, fighter aircraft deliver ground munitions. The Air Force F-16 Fighting Falcon, a proven performer in the U.S. arsenal, is a typical modern example of a fighter aircraft.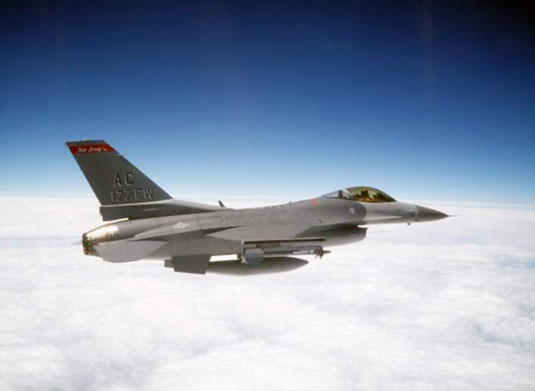 Credit: Photograph courtesy of www.af.mil
The F-22 Raptor, a much more modern fighter aircraft, was designed to counter an increased air-to-air threat. Although the production is currently limited to fewer than 200 airframes, this aircraft is an example of a technologically superior airframe that the United States can rely on to project might well into the 21st century. You can see this aircraft in this figure.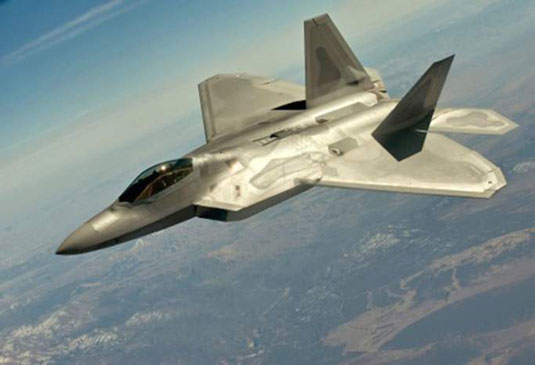 Credit: Photograph courtesy of www.af.mil
Attack aircraft
Attack aircraft don't have a primary air-to-air mission but rather serve as effective weapons in air-to-ground (on land) or air-to-surface attack operations (on sea). The A-10 Thunderbolt II — also affectionately known as the "Warthog" — gained notoriety during the Gulf War for its successful use as a ground attack aircraft. Check it out.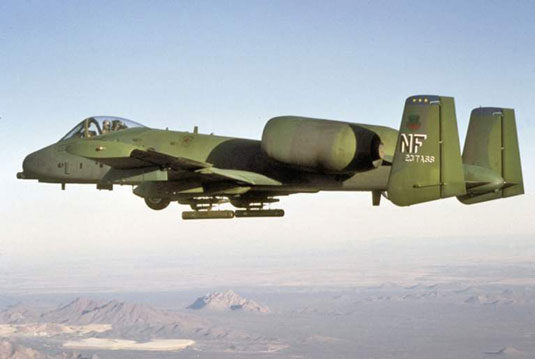 Credit: Photograph courtesy of www.af.mil
Multirole fighter/attack aircraft
Today's military has developed and widely deployed multifaceted fighter/attack aircraft capable of both air-to-air operations and precision ground attack and bombing operations. The Naval F/A-18 Hornet and the F-35 Lightning II Joint Strike Fighter are examples of this type of aircraft. This multirole aircraft is replacing the former attack- or fighter-specific aircraft with one aircraft fully capable of performing both missions and therefore increasing battlefield flexibility for military commanders. These figures give you a look at these aircraft.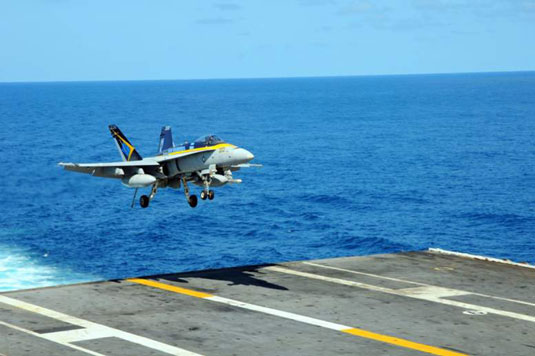 Credit: Photograph courtesy of www.navy.mil
F/A 18 Hornet (U.S. Navy).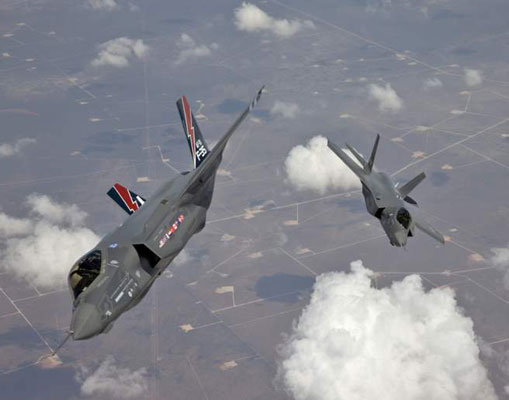 Credit: Photograph courtesy of www.edwards.af.mil
F-35 Lightning II.
Bomber aircraft
Bombing enemies' production assets on a mass scale is one of the major factors in past U.S. military victories. Today, the carpet-bombing strategies of past wars are long gone; they've been replaced by sophisticated, electronically shadowed aircraft capable of surprising enemies by delivering lots of precision-guided weapons, all while avoiding electronic detection. The B-2 Spirit bomber (more commonly known as the stealth bomber) is a long-range, first-strike aircraft with these capabilities).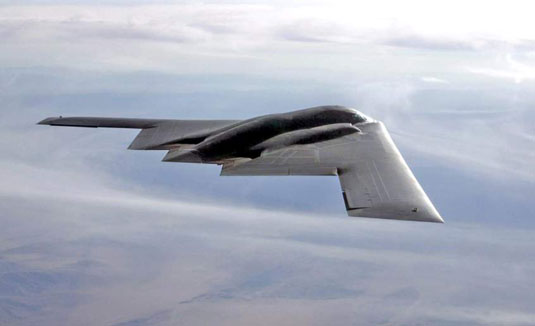 Credit: Photograph courtesy of www.af.mil
B-2 Spirit (U.S. Air Force).
Cargo aircraft
The cargo mission consists of operations to resupply troops, troop movement, aero medical operations (similar to medivac), airborne operations (such as parachuting soldiers who drop behind enemy lines), and humanitarian assistance. When the job requires rapidly transporting personnel or goods far and quickly, the cargo pilot and flight crew are the ones that get the job done.
One cargo aircraft is the C-130 Hercules, which can operate in remote and underdeveloped locations because of its capability to land on unimproved roads and fields. The Air Force, Navy, and Coast Guard rely heavily on this workhorse, shown, to achieve their missions.
Credit: Photograph courtesy of http://cgvi.uscg.mil
C-130 Hercules (various branches).
Another, longer-range cargo aircraft capable of delivering combat military troops and equipment to distant lands is the C-17 Globemaster III. The C-17 is one of the newer aircraft in today's military air inventory; it enables rapid ground force employment worldwide and has been used with great success in Iraq and Afghanistan.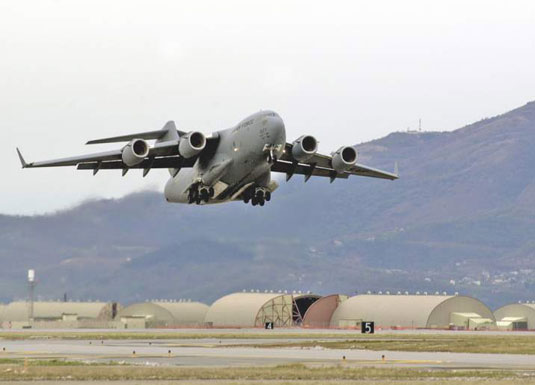 Credit: Photograph courtesy of www.af.mil
C-17 Globemaster III (U.S. Air Force).
Reconnaissance/surveillance aircraft
Reconnaissance and surveillance aircraft gain critical, time-sensitive intelligence information. The mission can range from standard intelligence-gathering and battlefield surveillance to electronic countermeasures. Airborne Early Warning and Control (AEW&C; some earlier systems are also known as Airborne Warning and Controls System or AWACS) aircraft provide radar coverage on the battlefield, direct targets, and distinguish between enemy and friendly aircraft.
AEW&C works for both defensive and offensive operations and directs fighter aircraft to targets as directed by higher headquarters. An example of an AEW&C aircraft is the E-2 Hawkeye aircraft, shown, which is capable of being launched from an aircraft carrier. The Air Force utilizes a larger AWACS aircraft, the E-3 Sentry, for electronic countermeasures and battlefield control functions.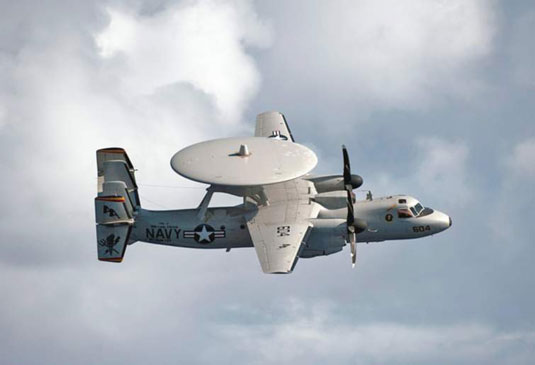 www.navy.mil"/>
E-2 Hawkeye (U.S. Navy).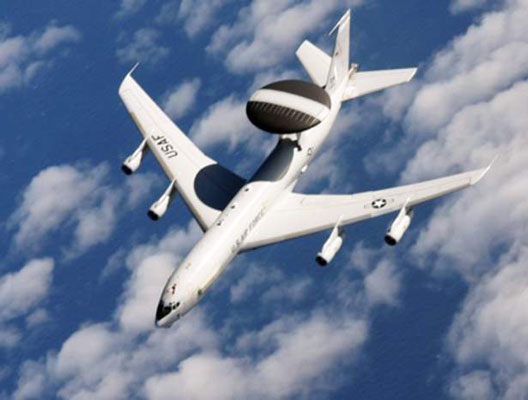 Credit: Photograph courtesy of www.af.mil
E-3 Sentry (U.S. Air Force).