Is My PC Hard Drive Partitioned?
A single physical hard drive can become one or more logical hard drives. In fact, it's those logical drives you see in the Computer or My Computer window. That's because Windows can use a hard drive only after it's been prepared for use, and part of that preparation includes partitioning and formatting.
To determine how your PC's hard drives are partitioned, open the Disk Management console window and check out the list of drives on your PC using these steps.
Open the Control Panel.

Open the Administrative Tools window.

In Windows 7, choose System and Security and then Administrative Tools.

In Windows Vista, choose System and Maintenance and then Administrative Tools.

In Windows XP, open the Administrative Tools icon.

Open Computer Management.

In Windows Vista, click Continue or type the administrator's password when prompted by the User Account Control warning.

Beneath the Storage heading (on the left side of the console window), choose Disk Management.
The Disk Management console appears.
Every physical hard drive is named starting with Disk 0. (Computer nerds use zero, not one, as the first number.) On your computer, in the Disk Management console window, you see Disk 0 listed along with partitions. One partition is most likely drive C, the main hard drive. Another partition commonly found on today's PCs is drive D, a "recovery" drive.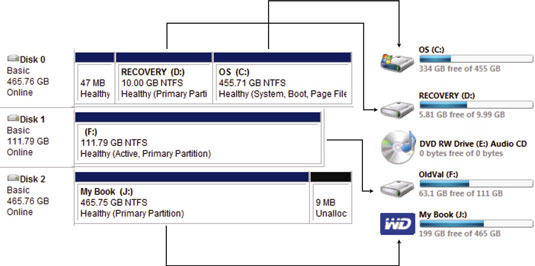 From physical drive to logical drive to icon.
If your computer has a second hard drive, you see it listed as Disk 1. This drive may have one or more partitions as well, as illustrated in the Disk Management console window. These logical drives also map out to icons in the Computer or My Computer window.
You can close the Disk Management console window when you're done looking.
All hard drives must have at least one partition.

Disk 0 is the first physical hard drive inside your computer. Any additional hard drives, internal or external, are numbered Disk 1, Disk 2, and so on.

Each drive is partitioned into one or more logical drives. Those logical drives map out to the drive letters and icons you see and use in Windows.

Each partition has a format type or method, such as NTFS or FAT32, for example. The format type explains how the drive was formatted and how data is written (or stored) to the drive.

Another name for a partition, or logical drive, is volume. This isn't a loudness thing; instead, think of a volume in a book.