How to Record Video with an Android Phone
When the action is hot — when you need to capture more than a moment (and maybe the sounds) — switch an Android phone's camera into Video mode. Your phone features the Camcorder app, which is used to record video. It's the same app as the Camera app, switched into a special video mode. In fact, you don't have to start the Camcorder app: Simply start the Camera app, and touch the switch with your finger to start shooting "vids."
As with the Camera app, what you see on your phone's touchscreen may be subtly different than the following figure. For example, not every Android phone has a front-facing camera, so there may be no Switch Camera command available. Also, the control drawer may look different or simply not even be there.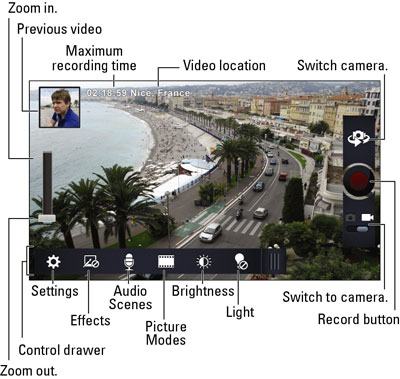 Start shooting the video by pressing the Record button. While the phone is recording, the Shutter button changes to the Stop button. To stop recording, touch that button.
Hold the phone steady! The camera still works when you whip around the phone, but wild gyrations render the video unwatchable.

The video's duration depends on its resolution as well as on the amount of storage available on your phone. The maximum recording time is shown on the screen before you shoot. While you record, the elapsed time appears.

In addition to using the zoom controls on the screen, you might be able to use the phone's volume buttons to zoom in or out as you record video.

Recorded video is saved in the phone's storage — primarily, the MicroSD card. The storage capacity is what limits your recording time, so be wary: The more videos you store on your phone, the less space you have to store other things (music, pictures, and contacts, for example).