How to Mark Favorite Video Clips in iMovie '11
The individual segments or video clips that make up an iMovie event look like filmstrips. You can mark your favorite video clips in iMovie to make them easier to work with.
A typical event has several clips. The length of a clip has to do with when you (or whoever recorded the video) started and stopped the camera. Video clips are represented by a series of thumbnails, each a frame within a clip.
The number of frames that make up a second of video will vary, depending on the video format you chose when shooting. You can select frame ranges to determine the video you are working with; the range is designated by a yellow border.
If you click a source video clip, iMovie selects 4 seconds of video from the point you clicked. You can change this default in iMovie Preferences.
You can expand or shorten select selected video clip by dragging a thumbnail slider to the right or the left. And you can drag the yellow selection border to change the frame range as well.
After you select the frame range of the video portion you love, click the Mark as Favorite button (the star) on the toolbar. A green bar appears at the top of the frame range. If you change your mind, click the Unmark button.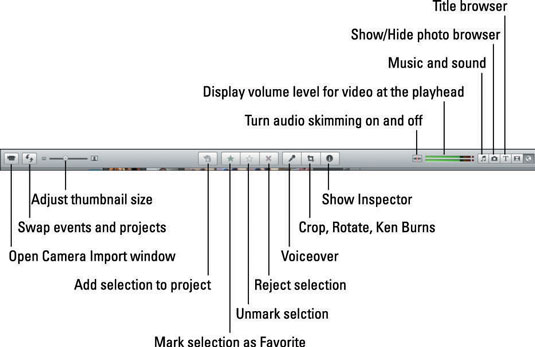 If you want to reject a frame range, click the X on the toolbar. Once again, click the Unmark button if you change your mind. The videos aren't totally eliminated until you move them to the trash (and empty the trash).
In the small pop-up box to the right of the Play buttons, you can sort or filter the video shown in the library. You can show Favorites Only, Favorites and Unmarked, All Clips, or Rejected Only. If you choose Rejected Only, you may charitably give some of those clips a second chance. It's also necessary to display them if you want to trash them.