How to Find Grant Funding for Your Organization
The best way to sustain a high funding success rate is to identify multiple funding sources for each project initiative. Then submit your grant proposals to all of them. Sending out multiple proposals is standard practice, as long as you tell all the funders that you plan to approach other sources.
Providing each proposal with a simple, one-page attachment labeled "Funding Sources Receiving This Request" is the most ethical way to inform all funders of your strategy. Some grant applications actually have a section for you to list other sources that you've approached.
Digging deep to find sure funding
In order to identify as many potential funding sources as possible for your organization, you need to carefully research the three primary sources of funding — federal funding, foundations, and corporations.
Federal funding: Thankfully, the federal government aids your federal funding search with its one-stop grant opportunity information Web site, Grants.gov. You may want to conduct an Internet search at this Web site on a weekly or monthly basis because the federal government releases new grant opportunity announcements daily (except for on federal holidays).

If you don't have access to the Internet, you can do a hard-copy search for federal funding sources. Simply visit a public library that serves as a government publication depository and therefore maintains print versions of the Federal Register, which includes grant opportunity announcements.

Foundation or corporate funding: When you're ready to conduct a foundation or corporate funding search, the place to turn to is the Foundation Center. This center's publications, CD-ROMS, and online databases provide up-to-date information on grant funding and other nonprofit-related issues.

To find out more about researching foundation or corporate funding sources located outside the United States, visit Funder's Online, the European Foundation Centre's Web site.
Testing the funding waters with a letter of inquiry
Many foundation funders state in their published guidelines that they prefer the initial approach (your first contact with the funder) to be a letter of inquiry rather than a full proposal. This letter allows the funder to make sure that what you're requesting is in its area of interest and range of funding award. Nowadays, practically all foundation funders require a brief letter of inquiry because they're overwhelmed with requests for funding.
At the top of your letter of inquiry, be sure to type the words Letter of Inquiry. It may seem obvious, but with all the paperwork that funders sort through, you're helping them out (and maybe putting them in a better mood to read your stuff) if the first glance at your letter tells them what they're getting. This figure shows an example letter of inquiry.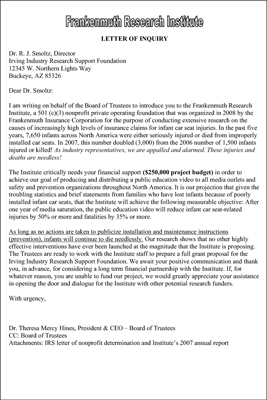 Click here to view this example.
Receiving full grant invites from multiple funders
Not every funder who expresses an interest in receiving a full grant proposal will end up funding your organization. The odds are one in five, which is why you need multiple funding sources for one program or project.
In today's economy, the chances that your organization will receive more grant funds than it needs are slim. The competition is high and the funding pie only has so many slices. So spread your funding development plan net as far as you can by identifying dozens of potential funders and sending them letters of inquiry. Wait, have patience, and see what you catch with your bait. Follow up by providing any additional information requested or by preparing a full grant proposal (the funder will give you directions for what's to be included in this document).