How to Enable Universal Access on Your Mac
Some physically challenged users may require special help controlling the Mac, so you need to enable Universal Access on Your Mac. Choose Universal Access under System Preferences and click the tab you need assistance with: Seeing, Hearing, Keyboard, or Mouse.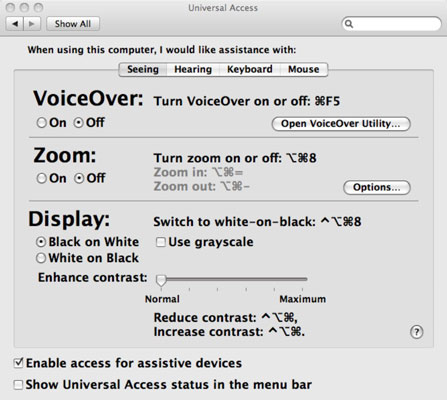 Among the options, you can arrange to
Turn VoiceOver on or off, to hear descriptions of what's on your screen. And by opening the VoiceOver utility, you can change the default voice. With Leopard, VoiceOver supports the most popular Braille displays.

Enhance the contrast or alter the display from black on white or white on black.

Flash the screen when an alert sound occurs.

Zoom in on the screen to make everything appear larger. Or enlarge the size of the pointer if you have trouble seeing the mouse.

Use a Slow Keys function to put a delay between when a key is pressed and when the result of that keypress is accepted. Or, if you can't easily press several keys at once, use Sticky Keys to press groups of modifier keys (Shift, Command, Option, and Control) in a sequence.