How to Capture Close-Ups in Digital Wedding Photography
Though a wedding has a lot of fast-paced movement for a photographer to capture, it also has quiet times that present golden opportunities for some really great photos. Some of the most iconic pictures of most weddings, like a portrait of the bride in her dress or a candid of the couple in an unrehearsed embrace, come from these calm moments.
How to select an aperture for a close-up
Choosing an aperture is one of the first elements you decide when shooting the still moments. Aperture is one of the factors that determine your depth of field, or how much of the picture is acceptably sharp. Depth of field is used to create mood by softening or hardening the foreground and background of your photo.
When shooting a single subject, photographers have different preferences. When deciding what to do, consider the information in the following list, which addresses apertures f/1.2 to f/11 and how they create certain effects. Pick and choose what you want to use based on your circumstances and artistic style.
Play around with apertures and depth of field to find what looks best to you.
How to capture a close-up by focusing on the eyes
As you photograph people on a wedding day and capture their expressions, keep in mind that the eyes are the strongest focal point of a photo of a person.
If your subject is looking at the camera, the eyes are the most crucial part of the picture to have tack sharp (highest clarity and detail possible) and well lit. Here are a few ways you can make eyes pop in a photograph:
How to choose angles and framing for close-up portraits
To prevent your pictures of the calm moments from becoming static or boring, consider switching your angles and in-camera framing to add interest to the photo.
How to play with lighting for a close-up photo
Lighting can have a huge impact on your photos by creating different moods. When you combine certain types of lighting with expressions, you can create photographs that draw in a viewer.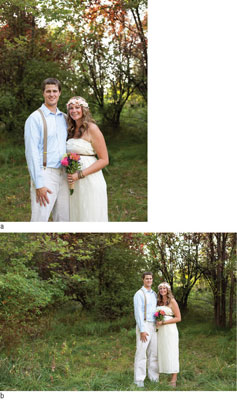 50mm, 1/100 sec., f/3.2, 125