How to Bookmark a Web Page on Your Android Tablet
Need to remember a favorite website? For heaven's sake, don't turn down the corner of your Android tablet! Instead, just create a bookmark for that site. It's cinchy: Touch the Favorite icon to the right of the Address box. Tap that icon, and you see the Add Bookmark window.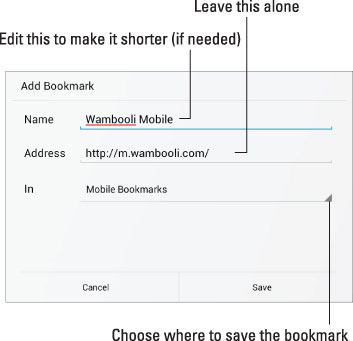 Edit the name to something shorter, especially if the web page's title is long. Shorter names look better in the Bookmarks window. Touch the Save or OK button to create the bookmark.
After the bookmark is set, it appears in the list of bookmarks. To see the bookmark list in the Chrome app, touch the Menu icon and choose the Bookmarks command. Chrome has three categories for bookmarks: Desktop Bookmarks, Other Bookmarks, and Mobile Bookmarks. (You choose the category from the Add Bookmark window.)
The Desktop Bookmarks folder contains any bookmarks you've used on the desktop version of Chrome, which is a handy way to import your computer's bookmarks. That information is coordinated with your Android tablet courtesy of your Google account.
To browse bookmarks, open a bookmark folder. If necessary, touch a subfolder to open it. Then touch a bookmark to visit that page.
Remove a bookmark by long-pressing its entry in the Bookmarks list. Choose the command Delete Bookmark.

Bookmarked websites in the Chrome app can also be placed on the Home screen: Long-press the bookmark thumbnail and choose the command Add to Home Screen.

If your desktop Chrome bookmarks are not coordinated with your Android tablet, start Chrome on your desktop. Click the Settings (wrench) icon and ensure that you're signed in using your Google account.

A handy way to create new bookmarks is to review the Most Visited sites in the Chrome app: When perusing your Bookmarks, touch the Most Visited tab at the bottom of the screen. Touch a web page thumbnail to view that page, and then touch the Favorite icon to bookmark that page.