How to Add Tabs Your Android Tablet's Google Chrome App
The Chrome app for the Android tablet uses a tabbed interface to help you access more than one web page at a time. You see various tabs marching across the Chrome app's screen, just above the Address box.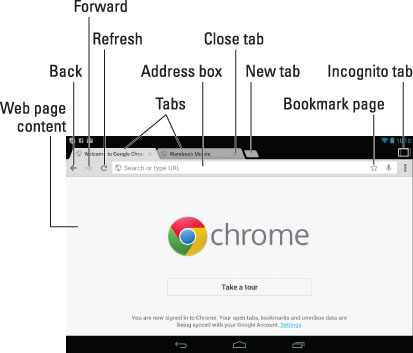 Here's how you work the tabbed interface:
To open a blank tab, touch the teeny tab stub to the right of the last tab.

To open a link in a new tab, long-press that link. Choose the Open in New Tab command from the menu that appears.

To open a bookmark in a new tab, long-press the bookmark and choose the Open in New Tab command.
You switch between tabs by choosing one from the top of the screen.
Close a tab by touching its Close (X) icon; you can close only the tab you're viewing.
The tabs keep marching across the screen, left to right. You can scroll the tabs to view the ones that have scrolled off the screen.

If you close all the tabs, you'll see a blank screen in the Chrome app. A New Tab command appears atop the screen.

New tabs open to the last web page you viewed. Or if you were viewing the bookmarks, the tab opens with the bookmarks.

Shhh! For secure browsing, you can open an incognito tab: Touch the Menu icon and choose the New Incognito Tab command. When you go incognito, the web browser won't track your history, leave cookies, or provide other evidence of which web pages you've visited in the incognito tab. A short description appears on the incognito tab page describing how it works.

To switch between your incognito tabs and regular tabs, touch the rectangle that appears in the upper-right corner of the Chrome app's screen.