Find Pictures in Mac's iPhoto '11 using the Places Feature
Find photos on your Mac by mapping where they were taken with the Places feature in iPhoto '11. iPhoto takes advantage of an image's location information to help you organize your photos.
You see, many of today's cameras (and camera phones) can detect where they are − and, by proxy, where the shooter is − when a picture is snapped. This information is then stored in the image file when the photo is saved.
Even if your camera doesn't have such built-in geotagging capabilities, you might be able to insert an Eye-Fi memory card that can supply such location data (not all do).
So it stands to reason that, if your camera knows where a picture was taken, iPhoto can exploit location information for your benefit. The way it taps in to geotagging is through the aptly named Places feature, which partly relies on the Global Positioning System (GPS) coordinates that your camera captures along with the image.
To get started, click Places in the iPhoto source list (or click the Places button when you're in full-screen view).
A Google map in the main viewing area displays red pushpins that designate spots where one or (more than likely) more than one photo has been taken. Move your cursor over the pin to see the name of the place; click the arrow to summon all the pictures taken there.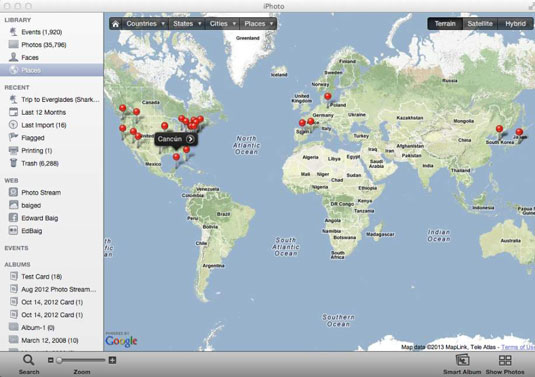 Don't fret if your camera can't capture location data. You can type your own location information and be as general (such as Chicago) or as specific (Grandma's house) as you like.
Drag the zoom slider at the lower-left corner of the screen to zoom in or out on the map. You can also reveal more of a map by dragging with your mouse, double-clicking or (via trackpad) pinching to zoom in on an area, or clicking drop-down menus to look for photos in your library by country, state, city, or point of interest.
When desired, switch the look of the map to a Satellite view, a Terrain view, or a hybrid of the two.
Even if you hadn't clicked Places, you can check out a photo's location on a map. Click the Info (i) button to open the Information pane, and you can see where the picture was taken on a small map adjacent to the actual photograph. Photo locations work in Events view as well; the map shows pins for all the pix in an event.
If iPhoto doesn't seem to be capturing location data, open iPhoto preferences, click the Advanced tab, and make sure that Automatically (as opposed to Never) is displayed under Look Up Places.
If you select the Include Location Information for Published Photos option, any location information captured with your pictures will be included if you share those images via e-mail or on an online photo site such as Flickr. Deselect this item if you don't want to include such information when you share your pictures in cyberspace.