Customizing the Menu Bar in Office 2003
Because Office 2003 contains so many different commands, each menu title can display commands in one of three ways:
Display every possible command at all times. This lets you see all the possible commands you can choose but can also overwhelm you with too many choices.
Hide the commands you rarely use. If you want to see all the commands stored under a particular menu title, you have to click the Expand button at the bottom of the menu title.
Hide the commands you rarely use but display them automatically after a few seconds.
To change the way menus work, follow these steps for each Office 2003 program:
1. Choose one of the following:
• Click Tools --> Customize.
• Click View --> Toolbars --> Customize.
A Customize dialog box appears, as shown in Figure 1.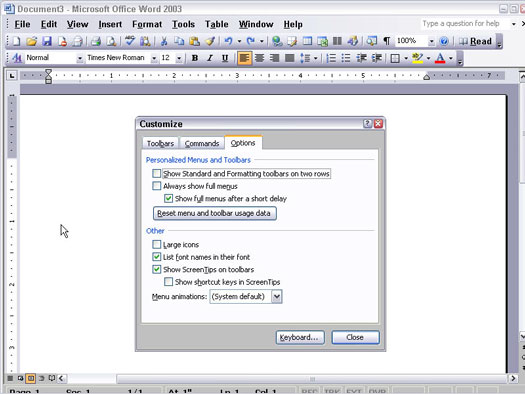 2. Click the Options tab.
3. Click or clear one of the following check boxes:
• Always Show Full Menus: If checked, this option makes the drop-down menus display every possible command as shown in Figure 2.
• Show Full Menus After A Short Delay: If checked, this option waits a few seconds before showing the less frequently used commands on a menu.
4. Click Close.