Connect Your Surface to Portable Hard Drives and Flash Drives
If you own a large music or video collection, your Surface's hard drive won't be large enough. Only one gadget can handle the job: a portable hard drive, like the one shown here.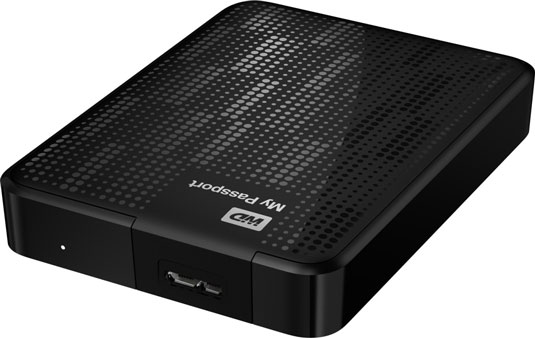 Plug the cable from one of these small hard drives into your Surface's USB port. After a few moments, the drive shows up in File Explorer.
Most portable hard drives draw their power directly from your Surface's USB port. Some older drives won't work because they need more power than your Surface can give.
Portable hard drives typically hold up to 3 TB of information, which is about 3,000 GB. That should be enough to last most people while on the road.
Another essential addition to your gadget bag is the flash drive. Flash drives are tiny memory sticks that plug into the USB port on your Surface's side. After they're inserted, the drive appears in File Explorer.
Flash drives are the simplest and fastest ways to copy files to or from your Surface. In fact, they're why Windows 8 tablets beat many competing tablets: Few other tablets even include a USB port, much less let you copy files to and from a flash drive.