4 Ways to Review iMovie '11 Video
Your raw footage is in place — all in a single unified iMovie video library on your Mac. However, moviemaking really gets accomplished: by arranging scenes and adding music, pictures, titles, transitions, and more. Get ready to unleash your creative juices.
Staging events
As you've already seen, the video you import into iMovie shows up in your iMovie library, organized into events. Think of events as folders containing clips tied to that occasion. You should have provided reasonably descriptive names for these events.
If you didn't type a descriptor, iMovie substitutes one for you — something like 2-22-14 (in other words, the date that you created the event). Come on, folks; you can do better than that. And you always have the option to rename events later.
You may have created an event as you went about importing your clips. You can just as easily start out fresh by choosing File→New Event.
Here are some of the options you have for putting your own stamp on events:
Merge them. You can take video from multiple sources and place them in one event. Merge events by choosing File→Merge Events.

Split them. To split one event into two, create the new event(s) you need and then move the clips from the original event to the new one.
Milking the skimming feature
Skimming is one of the coolest and most useful innovations in iMovie. By mousing over the dynamic filmstrips representing your footage in the browser or timeline, you can skim through your entire video in a blink — faster than real time, anyway.
Images move in both the filmstrips and the larger iMovie viewer. Click the arrows on the keyboard if you'd rather advance or retreat frame by frame. Shift-clicking the arrow moves 10 frames at a time. You hear sound, too, as you skim through your video; the audio plays backward or forward, depending on which direction you skim.
You can unmute the sound while skimming by turning on Audio Skimming, because that feature is turned off by default. To turn it on, choose View→Audio Skimming or press Shift+S. You hear the sound when you skim by pressing the arrows on the keyboard, regardless of whether Audio Skimming is on or off.
Turning off Audio Skimming doesn't affect the sound during normal playback.
Playing around with playback
You can play back your video from any starting point in several ways:
Place the pointer where you want to begin watching in the browser, and press the spacebar.

Select part of a clip and choose View→Play.
To stop playing a movie, press the spacebar or click anywhere in the iMovie window.
If you want to watch events from beginning to end, select any part of the clip and choose View→Play from Beginning or press the backslash (\) key on the keyboard. To play a given selection from the beginning, choose View→Play Selection or press the slash key (/). You'll know that you've selected a clip or portion of a clip by the yellow line that borders the selection.
To admire your video full-screen, select the part of the video you want to watch and then choose View→Play Full Screen or press Shift+cmd+F. You can also click the full-screen button that appears when you mouse over the viewer. Press Escape to leave full-screen mode or click the full-screen button a second time.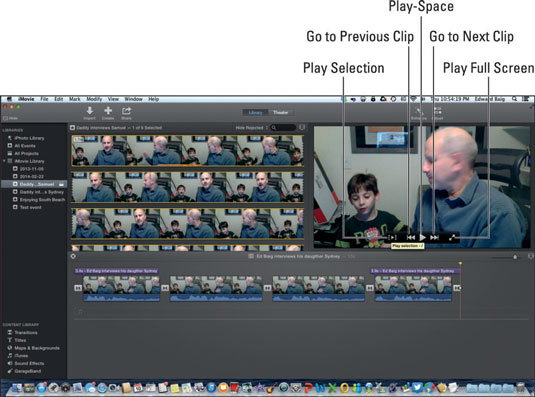 Working with video
As noted, the individual segments or video clips that make up an entire event look like filmstrips. A typical event has several clips.
The length of a clip has to do with when you (or whoever recorded the video) started and stopped the camera. Video clips are represented by a series of thumbnails, each a frame within a clip. The number of frames that make up a second of video varies, depending on the video format you chose when shooting.
You can select frame ranges to determine the video you're working with; the range is designated by a thin yellow border. A range can span multiple clips within the timeline.You can drag the yellow selection border to change the frame range as well.