Case Study
Client: Simplicity Pattern Company
Solution: Sewing Patterns For Dummies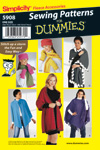 Working with the Dummies brand licensing program has helped us reach new customers, increase our market share, and has grown our business in the U.S. and a half dozen markets outside the U.S. We developed a new product line that has delivered fantastic results for over eight years.


Simplicity
Objective
Simplicity's goal was to grow market share in the sewing pattern category, targeting novice consumers, and building on their mission of "Creativity made simple." At the end-consumer level, they sought to reach new audiences by leveraging the recognition of the For Dummies brand.
Strategy
Simplicity would work with the For Dummies licensing team to develop a new line of Dummies-branded sewing patterns including designs for apparel, home decorating, window treatments, crafts and costumes. The patterns featured Dummies instructions, icons and tips built into the design with the pattern, fabric, cutting and sewing information. Wiley's Creative Services and Brand Management Editorial Teams would provide the expertise to integrate Dummies instructions and brand look and feel into the patterns. Simplicity would launch the new line with national retailers and in their catalogs.
Results
The first dozen patterns initially shipped in April 2001 with distribution at one national chain and two regional craft chains. More patterns were added each quarter, and broad distribution was secured in 2002 at Walmart, JoAnn's and other accounts. Simplicity gained market share on the category market leader, secured incremental placement in 400+ Walmart stores with spinner racks dedicated to the For Dummies pattern, and increased business at JoAnn's Fabrics when that account chose the For Dummies patterns for use in their "Sewing 101" classes.