Case Study
Client: Coca-Cola
Solution: Happiness For Dummies, Refreshed by Coca-Cola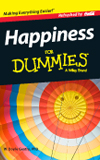 Our partnership with For Dummies helped bring the idea of HAPPINESS to our key stakeholders, employees and consumers by placing it right into their hands. It's very reassuring to see how people still react so favorably to simple content that they can read and digest with speed, and also perhaps share with others. Happiness For Dummies helped Coca-Cola bring happiness to more people.


Marketing Director, Coca-Cola ASEAN
Objective
Coca-Cola has been bringing smiles to people's faces since 1886. It takes happiness very seriously and even has a Happiness Institute in Spain. According to research conducted by the Institute, Coca-Cola is the brand most associated with happiness. So to continue to provide simple moments of pleasure, Coca-Cola teamed up with Wiley to create Happiness For Dummies, Refreshed by Coca-Cola.
Strategy
Happiness For Dummies, Refreshed by Coca-Cola is an excerpt from Wiley's Happiness for Dummies by W. Doyle Gentry, with additional content from Coca-Cola's own formulas for happiness. The book was launched across Southeast Asia to celebrate Coca-Cola's birthday.
Results
"In an increasingly digital world, a big challenge is how to drive the message through for some of the most important topics," said Shakir Moin, Marketing Director Coca-Cola ASEAN. "While our lives are linked to a new world of bits and bytes, sometimes doing things the traditional way…the simpler way can prove more effective.