Case Study
Client: BCA
Solution: BCA Green Mark for Office Interiors For Dummies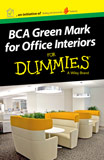 Everyone has a role to play in saving Mother Earth, and awareness is key in helping us realize this goal. As such, BCA is constantly on the lookout for new engagement platforms to educate the public and urge them to join us in our green building efforts. The BCA Green Mark for Office Interiors For Dummies is one such avenue that will complement the wide range of outreach activities we have. I hope that the guidebook will be able to inspire more to come onboard the Green Mark for Office Interiors scheme.


Chief Executive Officer, BCA
Objective
In the fight against climate change, office buildings make a big impact. Hence there is a need to raise the awareness of occupants and firms on sustainable practices as their behavior will have a direct impact on energy consumption.
Strategy
Environment-conscious firms who are keen on greening their offices but don't know how, can now refer to tips from the BCA Green Mark for Office Interiors For Dummies. The guidebook is a joint effort between the Building and Construction Authority (BCA) and Wiley, publisher of the popular For Dummies series of guidebooks. The special edition 40-page book offers comprehensive information on how offices can go about greening their offices to achieve the BCA Green Mark for Office Interior certification. The guide contains useful information on the assessment criteria, requirements, as well as certification process.
Results
The BCA Green Mark for Office Interiors For Dummies is an educational tool in creating stronger user awareness. The guidebook serves to share with users the benefits of greening their offices, and equip them with the know-how to go green.