Case Study
Client: Avery/Footprint Communications
Solution: Green Offices For Dummies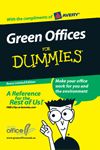 We were aware of other large corporates targeting the office environment with 'green' messages and we needed an angle that would set our campaign apart. Other companies had taken the approach of chastising office workers for not doing enough. Our approach was more empathetic, realising that efforts to green offices were often hindered by a lack of empowerment or facilities. Green Office Week needed to support and educate office workers to help create a climate for change. A tie-up with the For Dummies brand was the obvious choice to deliver this.


Managing Director, Footprint Communications
Objective
Avery products are the first choice for office administrators, because of their high production quality and ease of use and software support. Best known around the world for their labelling products, Avery sought to:
Raise awareness of the Avery brand outside of its traditional administrative audience without alienating Avery loyalists.
To position Avery as a leader when it comes to environmentally-responsible products.
To create opportunities for product trial amongst end consumers.
To create excitement and profit-building opportunities amongst Avery trade customers.
To engage Avery staff, encourage them to act and think green and improve teamwork.
Avery's marketing agency, Footprint Communications, devised a campaign that would culminate in the first ever Green Office Week (2–6 March 2009.) It aimed to speak to office workers in all walks of life and at all levels, from office juniors to senior management and seed environmental change in the office environment.
Strategy
The For Dummies brand, the most popular and most recognised reference brand in the world, universally known for providing an easy access point to any subject, was the perfect third party association.
A limited edition Avery branded Green Offices for Dummies Guide was produced to educate and facilitate office worker empowerment. For Dummies used FSC approved paper sources and vegetable ink to produce the guide, which effectively formed the 'call to action' for the campaign. A further five dual-branded versions were produced featuring Avery trade partners who wished to use the guide as a gift with purchase to drive environmentally responsible purchases during Green Office Week. In addition, an electronic version of the guide was made available for people to download from the official campaign website.
The Dummies B2B team further supported the campaign with POS material and the provision of the famous Dummies man who created a sense of excitement for Avery head office staff at the campaign's internal launch.
Results
82,000 Avery branded For Dummies guides were distributed via the London newspaper Metro and through trade partners. The Green Offices for Dummies Guide was so well received by the Metro editorial team that it was given a front page splash on Monday 2nd March, the first day of Green Office. The campaign garnered 130 million impressions and is set to become a regular event in the office workers' calendar with plans for Green Office Week 2010 already underway.