Case Study
Client: Avaya
Solution: VOIP For Dummies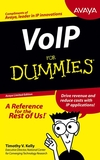 Avaya has always been pleased with the response that resulted from using the For Dummies brand in our marketing campaigns for our employees as well as customers. The Avaya For Dummies series of print and digital books not only helped us to reach our customers in the US, but worldwide in a variety of translations.


Senior Marketing Manager, Avaya
Objective
To educate customers, partners and employees on emerging communication topics and establish Avaya as the global industry leader in VOIP, contact centers, mobile workforce and other business communications topics.
Strategy
The Avaya marketing team and the For Dummies custom publishing team created a small trim book, VOIP For Dummies, to be used as a training piece for Avaya sales personnel, partners and customers. The books were used as handouts at conferences, tradeshows, sales meetings and sales calls. Books were available in print and digital PDF download files for additional distribution. In order to effectively reach its global community, Avaya and the For Dummies team translated this title into 5 languages.
Results
This promotion was so successful that Avaya created a For Dummies marketing campaign which has included 12 English language titles with many translations to accommodate its global reach. The use of the For Dummies brand was so successful that Avaya's HR Department worked with the For Dummies team to create an internal publication on its newly implemented 401k programs which not only saw an increase of 53% participation but also won five industry recognition awards. The Dummies brand was so well received that Avaya (a sponsor of the World Cup) worked with the For Dummies team to create custom books to be given out at the event, Soccer For Dummies. This book was also translated into four languages. Avaya continues to work with the For Dummies custom sales team on new initiatives needed to continue to meet their education objectives.