Ten Ways to Search in Photoshop Elements 11
Ten Ways to Search in Photoshop Elements 11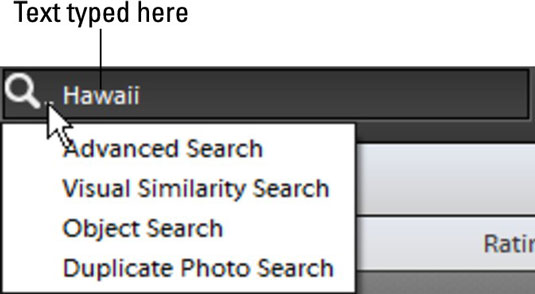 110
Use the Search box.
At the top of the Organizer window, you find Search with a text box. Type text in the box. You can press Enter/Return and perform a text search, or you can choose from menu items to open other search items.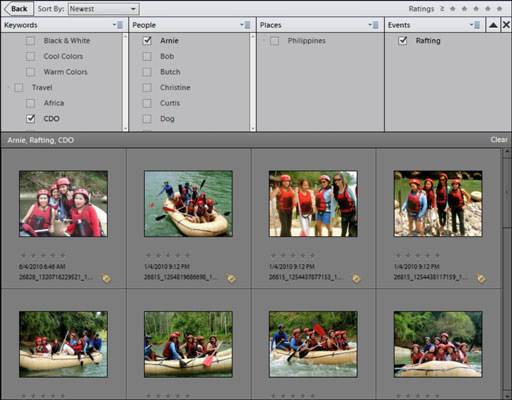 210
Use Advanced Search.
Advanced Search is placed at the top of the Find menu and for good reason. This option provides you one of the best methods for searching through the Media Browser. In one window, you can search for Newest/Oldest photos, photos rated with star ratings, Keywords tags, People tags, Places tags, and Events tags.
Choose Find→Using Advanced Search, and the Media Browser display changes. The panes are scrollable so that you can locate all the tagged items in the four panes. Select the check boxes for the items you want to search and the Media Browser dynamically updated to display the photos meeting the conditions you checked in the Advanced Search window.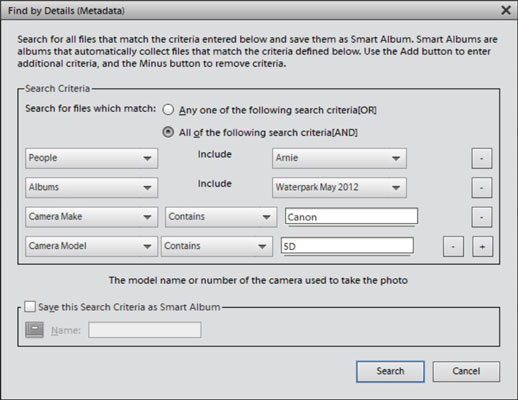 310
Search metadata.
Metadata includes not only the information about your images that's supplied by digital cameras, but also the custom data you can add to a file. Metadata contains descriptions of the image, including such data as your camera name, the camera settings you used to take a picture, copyright information, and much more.
Searching metadata is easy. Just choose Find→By Details (Metadata) in the Organizer. The Find by Details (Metadata) dialog box opens. The first two columns in the dialog box offer a number of different choices for search criteria and for options based on the criteria. In the third column, you type search criteria into a text box to specify exactly what you want to search for.
You can click the plus button to add new lines to your search criteria. Clicking the minus button deletes a line.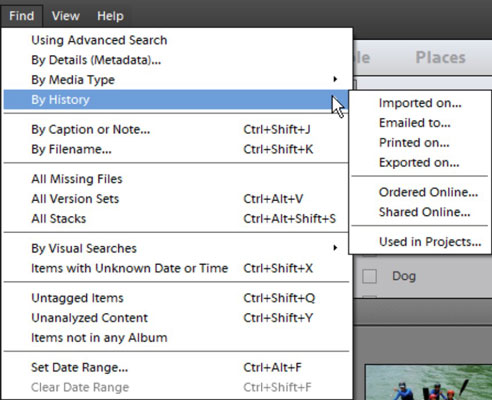 410
Search by history.
Elements keeps track of what you do with your photos, such as printing from within Elements, sharing photos, and performing various other tasks. If you want to base a search for files on the file history, choose Find→By History. If you choose options from the By History submenu, you see files that meet your criteria by date.
510
Search with the By History submenu.
Choosing a By History submenu command, such as Imported On, displays a dialog box where you can select an item.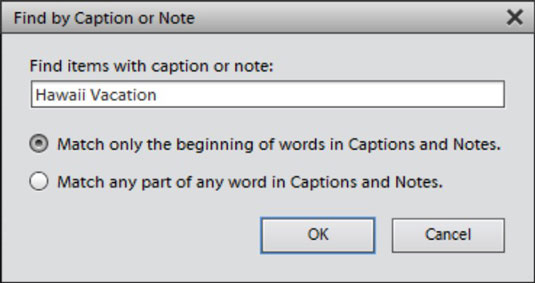 610
Search captions and notes.
When captions or notes are added to files, you can search for the caption name, contents of a note, or both. Before you can search for captions and notes, though, you have to add them to your images.
Choose Find→By Caption or Note to open the dialog box in which search criteria for captions and notes are specified.

710
Search by visual simularities.
After you tag people, you can easily click the People tab at the top of the Organizer window and locate all the people you've tagged.
Elements also provides you with the capability to search photos for visual similarities. You may have group shots, architecture, animal life, and so on and want to search for photos where objects in the photos are visually similar. To search for photos with visual similarities, choose Find→By Visual Searches. From the submenu, you can choose Visually Similar Photos And Videos, Objects Within Photos, and Duplicate Photos.
First choose Find→By Visual Searches→Visually Similar Photos and Videos. Return to the By Visual Searches submenu and choose Duplicate Photos.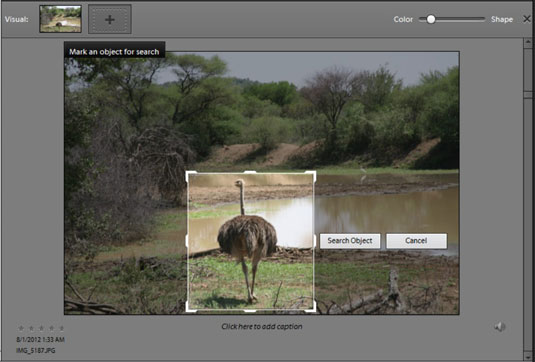 810
Search objects.
You may have objects in photos, such as architectural buildings, automobiles, trees, groups of people, and so on, that you want to stack or delete.
Mark the object you want to search and click Search Object.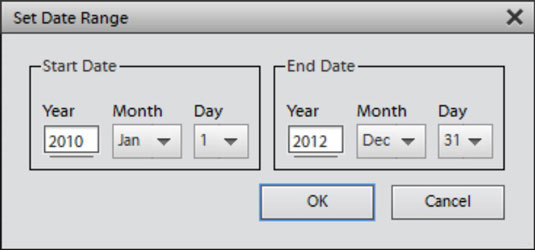 910
Search by date.
When you have a number of files in an Organizer window that include photos shot on different dates, you can narrow your search to find photos — and all other types of files supported by Elements — through a date search.
Open the Set Date Range dialog box and specify the start and end dates.

1010
Search for people.
Elements provides a great, although not perfect, solution for identifying and labeling people. As people are identified, keyword tags are automatically added to the Keyword Tags panel.
The Organizer has two buttons for tagging people. By default, you see only one button. However, if you double-click a photo and zoom it in in the Media Browser, a second button appears.
The Add People button is always present in the Media Browser. The second button — Missing People — appears only when you double-click a photo in the Media Browser to open it.