Photoshop Elements 7 For Dummies Cheat Sheet
Photoshop Elements 7 For Dummies Cheat Sheet
Photoshop Elements 7 offers a variety of tools to help make photo editing easy. Knowing the elements of the workspace gets you going, and when you add toolbox shortcuts and a range of tricks to help select images, editing photos becomes a snap.
Using the Photoshop Elements Workspace
Photoshop's Elements workspace provides you with a variety of tools to look at, edit, and organize your photos. Take advantage of the tools shown in the picture here: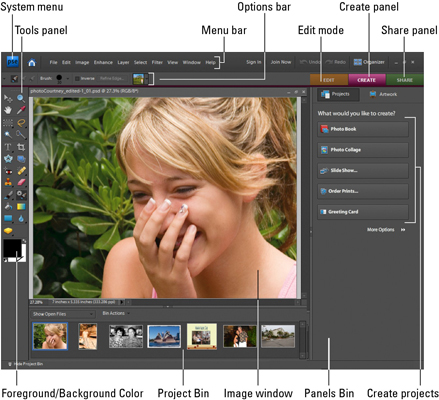 You can use the tools in the picture to accomplish these tasks and more:
Open an image in the Elements Full Edit mode by choosing File, Open.

Get information about your image by looking at the status bar. Click the right-pointing arrow to get more details regarding your document.

Need to see detail in your image? Zoom into your image by pressing Ctrl+spacebar and clicking. Zoom back out by pressing Alt+spacebar and clicking.

Easily switch between open documents by clicking images in the Project Bin.

Access panels as needed by choosing them from the Window menu or the Panels Bin.

Show files from the Organizer by selecting options in the Show Open Files drop-down menu in the Project Bin.
Photoshop Elements Toolbox Shortcuts
Photoshop Elements provides you with numerous keyboard shortcuts to edit, alter, and generally play with your pictures. Explore these shortcuts and perhaps find some features in Elements you didn't know about!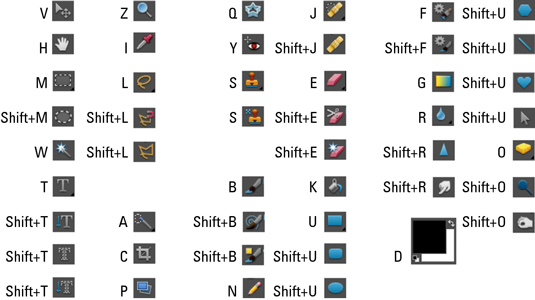 Returning to the last tool used requires pressing the Shift key and then the keystroke. For example, if the Elliptical Marquee was the last tool used, press Shift+M to return to the Marquee tool.
Selection Tricks for Photoshop Elements
To make changes to a picture or part of a picture with Photoshop Elements, you need to make selections. Fortunately, Elements offers a whole bunch of shortcuts to help you select, deselect, add to, and cut from what's on the screen or in the photo. This table lists selection shortcuts:
| To Do This . . . | Do This . . . |
| --- | --- |
| Add to selection | Shift-drag |
| Deselect from a selection | Alt-drag |
| Deselect all but intersected area | Shift+Alt-drag |
| Deselect | Ctrl+D |
| Reselect last selection | Ctrl+Shift+D |
| Select everything on current layer | Ctrl+A |
| Hide selection outline | Ctrl+H |
| Cut selection | Ctrl+X |
| Copy selection | Ctrl+C |
| Paste last cut or copied image | Ctrl+V |
| Paste into a selection | Ctrl+Shift+V |
| Adjust levels | Ctrl+L |
| Adjust hue or saturation | Ctrl+U |
| Adjust image size | Ctrl+Alt+I |
| Open pop-up menu for Create options | Ctrl+Alt+C |