How to Remove Colorcasts Automatically in Photoshop Elements 9
How to Remove Colorcasts Automatically in Photoshop Elements 9
You may occasionally notice an unexpected colorcast (a shift in color) in your photos. In Photoshop Elements, you can use the Remove Color Cast command to automatically eliminate the colorcast. This feature is designed to adjust the image's overall color and remove the cast.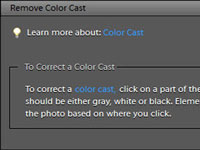 1

Choose Enhance→Adjust Color→Remove Color Cast in either Edit Full or Edit Quick mode.

The Remove Color Cast dialog box appears. Move the dialog box to better view your image. Note that this command is also available in Guided mode.
2

Click an area in your photo that should be white, black, or neutral gray.

The colors in the image are adjusted according to the color you choose. Feel free to experiment. Your adjustment is merely a preview at this point and isn't applied until you click OK. If you goof up, click the Reset button, and your image reverts to its unadjusted state.