Ten Practice Questions for Mental Arithmetic Tests
Ten Practice Questions for Mental Arithmetic Tests

110
Quinn cuts a delicious grey pizza into six slices and eats four of them. Which of the pizzas is his?
Answer: A. If Quinn eats four of the six slices, he has two left.

210
Which of the shapes is a hexagon?
Answer: D. A hexagon has six sides.

310
Keith is taking a train from Oxford and needs to be in London before noon. He looks at the timetable shown. Which is the latest train he can catch?
Answer: 10.30. The 11:00 train doesn't arrive until after 12:00.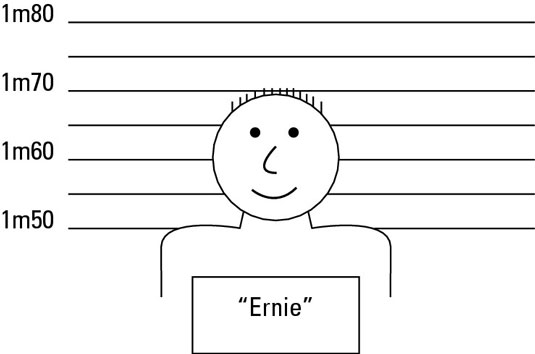 410
Here is a picture of Ernie. How tall is he, to the nearest 10cm?
Answer: 1 metre 70. Ernie is closer to 1 metre 70 than 1 metre 60.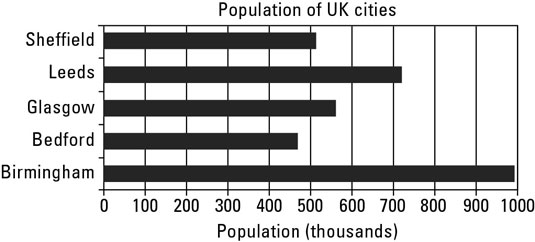 510
Look at the chart provided. Which city is bigger than Glasgow but smaller than Birmingham?
Answer: Leeds.

610
Which of the clocks shows the time 19:45?
Answer: C. The minute (big) hand is pointing at 9 and the little hand is between 7 and 8.

710
This figure shows Will's timesheet. How many hours did he work in total?
Answer: 37.5. 8 + 8.5 + 8 + 8 + 5 = 37.5.

810
The temperature in Reykjavik is –7ºC. The temperature in Moscow is –2ºC. How much warmer is Moscow than Reykjavik?
A: 9ºC
B: –9ºC
C: 3ºC
D: 5ºC
E: –5ºC
Answer: D: 5ºC. See the number line shown. The gap between –7 and –2 is five spaces.

910
The figure shows a train timetable. Frank needs to be in Manchester before 10 a.m. for a meeting. What is the latest train he can catch from Stockport?
Answer: 9:40. This is the last train from Stockport that gets in before 10 a.m. Make sure you look at the Stockport times and not the Sheffield times!

1010
In a card game, Louise starts with –25 points. In the first round, she scores 45 points. What is her score after the first round?
Answer: 20. –25 + 45 is the same as 45 – 25 = 20. Alternatively, you can look at the number line shown.