As an Airbnb host, you need to be aware of many other fees that you can set and charge guests. Get them right, and you could have more consistent bookings and profits. Get them wrong, and you could undo all the work you've put into your Airbnb listing and pricing.

Here we explore the important additional fees you can charge guests and how to go about setting the right strategy for each.
Setting the cleaning fee
The cleaning fee is often the biggest fee charged to guests and can range from nothing when hosts decide not to charge for cleaning to several hundred dollars for larger and higher end listings.

When starting out, price at or slightly below the median rate of your competitors. As your listing gains momentum and as you build a competitive advantage versus your competition, you can adjust your cleaning fees higher.

During the ramping-up period, when you want to price very competitively, set your cleaning rate to match the rate of the lowest rates charged by any of your competition. As you ramp up your nightly rates, you can also adjust your cleaning fee.

These sections explore the different options you have as a host for pricing your cleaning fee.
Charge nothing
Few hosts choose this option because guests are generally used to paying a cleaning fee and the standard for cleaning an Airbnb listing is higher than ever before. This option removes the barrier to booking as the price that guests see is what they pay (outside of Airbnb's service fee of course), but not charging a cleaning fee means you lose out on profits.

The only hosts this option could potentially work for are
Hosts who operate small listings (rooms and small one-bedroom listings only) who enjoy doing the cleaning and turnaround themselves
Hosts whose listings allow them to charge a premium over their competition and thus pricing some portion of the cleaning fee into their nightly rate
Charge in line with competition
For most hosts, this option is the recommended starting point. It allows you to pass most if not all the cleaning cost to your guests while still presenting a cleaning fee that is in line with market rates. If you want to go with this option, identify a dozen of the most comparable competitive listings in your market and charge slightly less than the median fee.

Charging in line with your competition creates no additional barriers versus competition. However, a cleaning fee may not always cover your cost, especially if you're hiring outside cleaners. Some listings with competitive amenities and great reviews could pass that different onto slightly higher nightly rates.
Charge for average length of stay
For many markets, the average booking is around three to four nights. Price your cleaning fee such that guests who are booking that most frequent length of stay in your market aren't turned off by the fee. This option is ideal for listings that tend to cater to longer stay bookings of five or more nights.

On one hand, this option discourages shorter stays because the cleaning fee often makes one- or two-night stays quite expensive. On the other hand, it may not always cover your cost to clean, especially if you're hiring outside cleaners.
Charge what your cost to clean
You could also charge based on your desired minimum hourly rate times the number of hours it takes you to clean or the actual cleaning fee that you pay to hire an outside cleaner. This option works for established listings that have solid reviews in a strong market where their potentially higher cleaning fees aren't enough to significantly impact overall bookings.

Guests pay for the entire cost of cleaning for each booking. No out-of-pocket cost to you. However, using this option often prices you above your competition, especially for smaller listings, creating a barrier to booking.
Setting the extra person fee
Airbnb lets you set a nightly rate for your initial occupancy and then set a fee for additional guests above and beyond the initial figure you set. Of course, you can still cap at the maximum occupancy number your property can legally accommodate. For example, by setting a $15 extra person fee, a three-night reservation with an extra guest will collect an extra $45 in rent (three nights times $15 extra per guest per night).

Although many hotel chains charge for an extra person fee, few enforce this rule at check-in. Most hotel travelers aren't even aware of this fee. For Airbnb travelers, even more so aren't aware.

Airbnb used to ask potential guests for their number of guests at the end of the search, which led to surprises when the guests saw the extra person fees added. However, Airbnb now asks potential guests to input their number of guests at the start of their search, so the extra person fees are added to the totals of the search results, thus eliminating that unpleasant surprise at checkout.
Charging an extra person fee: Why to do so
Here are some reasons you may want to include the extra person fee in your listing:
Extra body means extra costs. Having an additional guest often means higher utility costs, higher consumption of snacks and toiletries, more mess, and more wear and tear of furniture and appliances. The fee can help offset those extra costs.
You get extra profit. With Airbnb making it easier than ever to charge for extra person fees, it could mean extra profits left on the table if you don't charge that fee. For an average listing available year-round, that could mean $500 to $1000 in additional annual profits.
Charging an extra person fee: Why not to do so
You may not want to add an extra person fee for these reasons:
Guests still see the charge before booking. Although the extra person fee is less of a surprise now than before, guests still see the extra person charge as an added fee at checkout. In very competitive markets, even little barrier for booking can mean fewer bookings and thus less profits.
Average occupancy is max occupancy. If the average occupancy of your bookings for your listing is the maximum occupancy for your property, then you can't add an extra guest fee because you have no physical space to accommodate the extra guest.
Calculating the extra person fee
You want to make sure your extra person fee isn't on the high side compared to your competition. Identify a dozen of the most comparable competitive listings in your market and charge slightly less than the median fee. If half of your competition isn't charging a fee at all, you shouldn't charge a fee.

If you don't have enough comparable listings to establish a starting point, start low with the following recommendations and then adjust by $5 increments as needed:
Listings under $150 per night: Start at $10.
Listings between $150 per night and $300 per night: Start at $15.
Listings over $300 per night: Start at $20.
During the ramping-up period, don't charge this fee to minimize barriers to booking. As your listing stabilizes and reaches your baseline pricing, then add the extra person fee.
Setting the security deposit
Whether intentional or not, valuables can disappear from your listing and guests can inadvertently damage your things. A travel companion could decide to take the coffee maker. A child may spill food and drink on the couch or mattress, requiring costly cleaning or replacement.

To protect hosts and to discourage theft and careless behavior from guests, Airbnb lets hosts set a security deposit amount. Unlike traditional security deposits, it's more of a credit hold than an actual deposit of cash or credit. Guests aren't charged the value of the fee at booking.

Essentially, guests agree to place a hold on their credit card, in the amount of the security deposit, until the hold is released. In most cases, hosts never make a claim, and the hold is released 14 days after the guest checks out.
Charging the security deposit: Why it's a good idea
Here are a couple reasons why charging a security deposit is a wise idea:
Most hosts require security deposits. Guests are used to this and charging one won't create a barrier to booking unless the amount is glaringly outrageous. According to iGMS, a leading vacation rental software program, 59 percent of Airbnb listings have a security deposit.
It offers quick added protection. Although the odds of you making a claim against the security deposit is extremely low, more than likely you'll need to do so at one point. Accidents happen. And if you host long enough, you'll eventually encounter a guest from hell. And for most incidents where the security deposit is enough, it's also the quickest way to get payment compared to making insurance claims or getting mediation through Airbnb support.
Calculating the security deposit
Just as with other fees, you want to set your security deposit fee in a way that doesn't cause a potential guest to pause before she is about to book with you.

We suggest you identify a dozen of the most comparable listings in your market and note the security deposit levels they've set. Don't be the highest. Start with, at most, the median rate. If you don't have enough comparable listings to base your security deposit level on, use the 25 percent rule: Keep your security deposit at no more than 25 percent of your average total booking. For example, if the average booking for your listing is three evenings at $150, then 25 percent of $450 is $112.50.

For most listings, the ideal level is generally between $100 to $600 per booking, where the $600 levels are typically reserved for listings with average bookings well over $2,000.

Keep these two other considerations in mind:
Set the fee lower than your average booking value. For example, if your listing is a $150 per night listing and your average stay is three nights, then you'd want to keep your security deposit below $450. A $450 security deposit for a large listing with an average booking value of $2,500 is much more palatable than the same $450 fee for a $450 booking.
Move unnecessary valuables. If you have very expensive items like art or custom furniture that guests aren't likely to appreciate but may damage instead, remove those items from your property. Having fewer things that require costly cleaning, repairs, or replacement means you'll be able get away with a lower security deposit fee.
Yes, any incident that requires a claim against the security deposit likely will be time consuming and annoying. But incidents that require a claim are rare. So, don't let your fear of rare incidents influence your decision that impacts your listing's appeal to potential guests daily. The peace of mind that comes with setting a high security deposit could lead to costly missed bookings. For some hosts, getting additional insurance coverage is an option.
Lowering the barrier to booking
When deciding on appropriate fees, your goal is not necessarily to maximize additional revenue, but to lower the barrier to booking as much as possible. Sometimes, asking for too high of fees can backfire and lead potential guests to book with your competitors instead.

Currently, Airbnb already has a challenge with respect to short guest stays where the total cost after adding fees is often more than double that of the advertised nightly rate. The following figure highlights what booking a one-night stay on Airbnb often looks like for guests — irritating!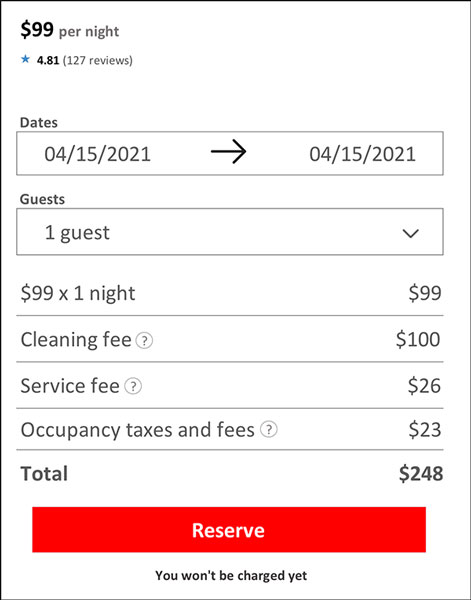 The fees can add up.
Although this mockup example is extreme because the fees are only spread across one night, we can't overstate the impact of the fees on guests during the checkout process. Before making the final reservation, guests will decide based on looking at the final cost per night after adding in all the additional fees.
The bigger the gap between the final price and the subtotal from just the nightly rates, the less likely the guest will end up booking. In setting your fees, you want to make sure your fees are no more than the middle ground of your competition.
About This Article
This article is from the book:
This article can be found in the category: