Perched on the top-right edge of the viewfinder on your Canon EOS 60D is a tiny black knob. Officially known as a dioptric adjustment control, use this knob to adjust the magnification of the viewfinder to accommodate your eyesight.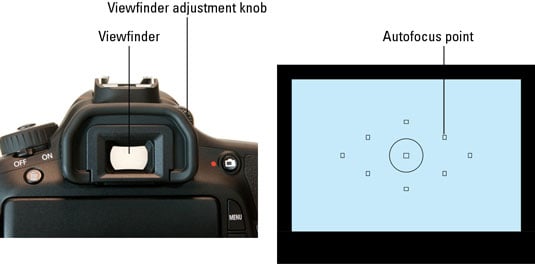 Adjusting the viewfinder to your eyesight is critical: If you don't, scenes that appear out of focus through the viewfinder may actually be sharply focused through the lens, and vice versa.
Follow these steps to adjust your viewfinder:
Look through the viewfinder and concentrate on the focusing screen.

Make sure the lens cap is off.

The focusing screen is the collective name assigned to the group of nine autofocus points that appears in the viewfinder: the little rectangles. (The circle that surrounds the center autofocus point is related to exposure metering.)

Rotate the dioptric adjustment knob until the autofocus points appear to be in focus.

Don't worry about focusing the actual picture now; just pay attention to the sharpness of the autofocus points.
If your eyesight is such that you can't get the autofocus points to appear sharp by using the dioptric adjustment knob, you can buy an additional eyepiece adapter. This accessory, which you affix to the eyepiece, enables further adjustment of the viewfinder display. Prices range from about $15 to $30, depending on the magnification you need. Look for an E-series dioptric adjustment lens adapter.
Keep in mind, too, that with the 60D, you can opt to use the LCD monitor instead of the viewfinder to frame and preview your shots. This feature is called Live View shooting.
Unfortunately, you can't adjust the focus of the Live View image.
About This Article
This article is from the book:
This article can be found in the category: