Understanding the Classical Music Concert Program
Understanding the Classical Music Concert Program
The program booklet you receive at a classical music concert is critical to enjoying the experience. You can expect to see all the following elements in any self-respecting program book:
A list of the pieces of music you're going to hear

A short explanation of each piece and its composer, including some history

A biography of the conductor and any guest soloists in the concert

A list of the players

An advertisement for a bank
The typical concert format
For reasons that are almost unfathomable, the vast majority of symphony orchestras use one constant, tried-and-true format for 90 percent of their concerts. This format is so common that it's almost expected by a large segment of the concert-going population:
AN OVERTURE
A CONCERTO
— INTERMISSION —
A SYMPHONY
This listing means that there are three pieces on the program, with a pause after the first two. You may compare this format to that of eating a meal— appetizer, entree, and dessert — except that the dessert is nearly twice as big as the entree and takes 45 minutes to eat. But otherwise, it's exactly the same.
An overture is a short musical introduction or prelude meant to whet your musical appetite. It's usually an actual overture stolen from some long-ago musical or opera. It's a great way to start the concert; a short opening piece is a neat way to give the latecomers a chance to enter without missing too much.
A concerto (pronounced "con-CHAIR-toe") is a piece of music in which one featured player (the soloist) plays the melody while the rest of the orchestra accompanies her. The concerto is by far the flashiest part of any concert program, and many people go to a symphony orchestra concert just to experience an exciting soloist.
After intermission comes the symphony. This piece is the longest work on the program. It's almost always four movements long; most symphonies last 35 to 45 minutes, just the right length for one half of the concert.
Here's a sample concert program page, using the tried-and-true OVERTURE-CONCERTO-INTERMISSION-SYMPHONY format: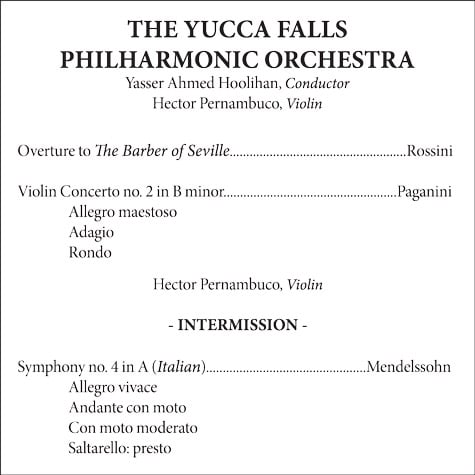 A sample concert page from the Yucca Falls Philharmonic Orchestra.